KAIWEETS KM601S Rechargeable Smart Digital Multimeter 10000 Counts TRMS
US/EU Warehouse

3-7 Business Days to America and Europe.
15-30 Business Days to Other Areas.

Free Return Warranty

30-Day No-Hassle Returns
3-Year Warranty
Fraud Prevention: Your Payment is Safe & Secure.
Smart Mode: KM601s This smart multimeter enters smart mode by default. In smart mode, the voltmeter automatically measures voltage, resistance, and continuity. It can identify the measurement content and select the range with the best resolution, making the measurement more convenient and faster.

Upgraded Version: Easily Use. This multimeter tester has a rechargeable function and a built-in 1200mAh battery. The meter lasts longer. And it is more convenient that you no longer need to manually replace the battery. In addition, a retractable bracket is added on the back of the meter.

Wide Application: The smart digital multimeter is suitable for diagnosing automotive, industrial, and household electrical problems. The multimeter can accurately measure AC and DC voltage, resistance, continuity, AC and DC current, capacitance, frequency, diode, duty cycle, temperature, NCV, and live wire.

Safety First: This smart multimeter is manufactured to meet the IEC rating CAT.III 1000V, CAT.IV 600V. Obtained CE and RoHS certifications. Anti-burn with double fuse and overload protection. The silicone case provides additional drop protection and electric shock protection.
SPECIFICATION

 

Item Weight

0.59 KG

Product Dimensions

16.5 X 8.3 X 2.5cm

Batteries

Lithium Battery

Performance Description

2 colors LCD screen, True RMS

Safety Level/Certification

IEC-61010-1 CATⅢ 1000V, CAT IV 600V, double insulation

Usage

 ▲ Voltage tester
▲ Large range measuring tool
▲ Frequency multimeter
▲ Diode electronic tester
▲ Capacitance digital meter
▲ Ohm meter

Upgraded Specification

● DC Voltage: 99.99mV/999.9mV; 9.999V/99.9V/1000V ±(0.5%+3)
● AC Voltage: 99.9mV/999.9/mV; 9.999V/99.9V/750V ±(0.8%+3)
● DC Current: 9.999mA/99.99mA/999.9mA ±(0.8%+3);
9.99A ±(1.2%+3)
● AC Current: 9.999mA/99.99mA/999.9mA ±(1.0%+3);
9.99A ±(1.2%+3)
● Resistance: 999.9ohm/9.999k/99.99k/999.9kohm ±(1.0%+5);
9.999m/99.99mOhm ±(2.0%+10)
● Capacitance: 9.999/99.99/999.9nF/9.999/99.99/
999.9uF ±(4.0%+3);
9.999mF/99.99mF ±(5.0%+5)
● Frequency: 99.99/999.9/9.999k/99.99k/999.9kHz/
9.999mHz ±(1.0%+3)
● Duty: 01.%-99.99% ±(1.0%+3)
1 x KM601s Multimeter
2 x Test Leads
1 x Thermocouple
1 x Durable EVA Bag
1 x Charging Cable
1 x User Manual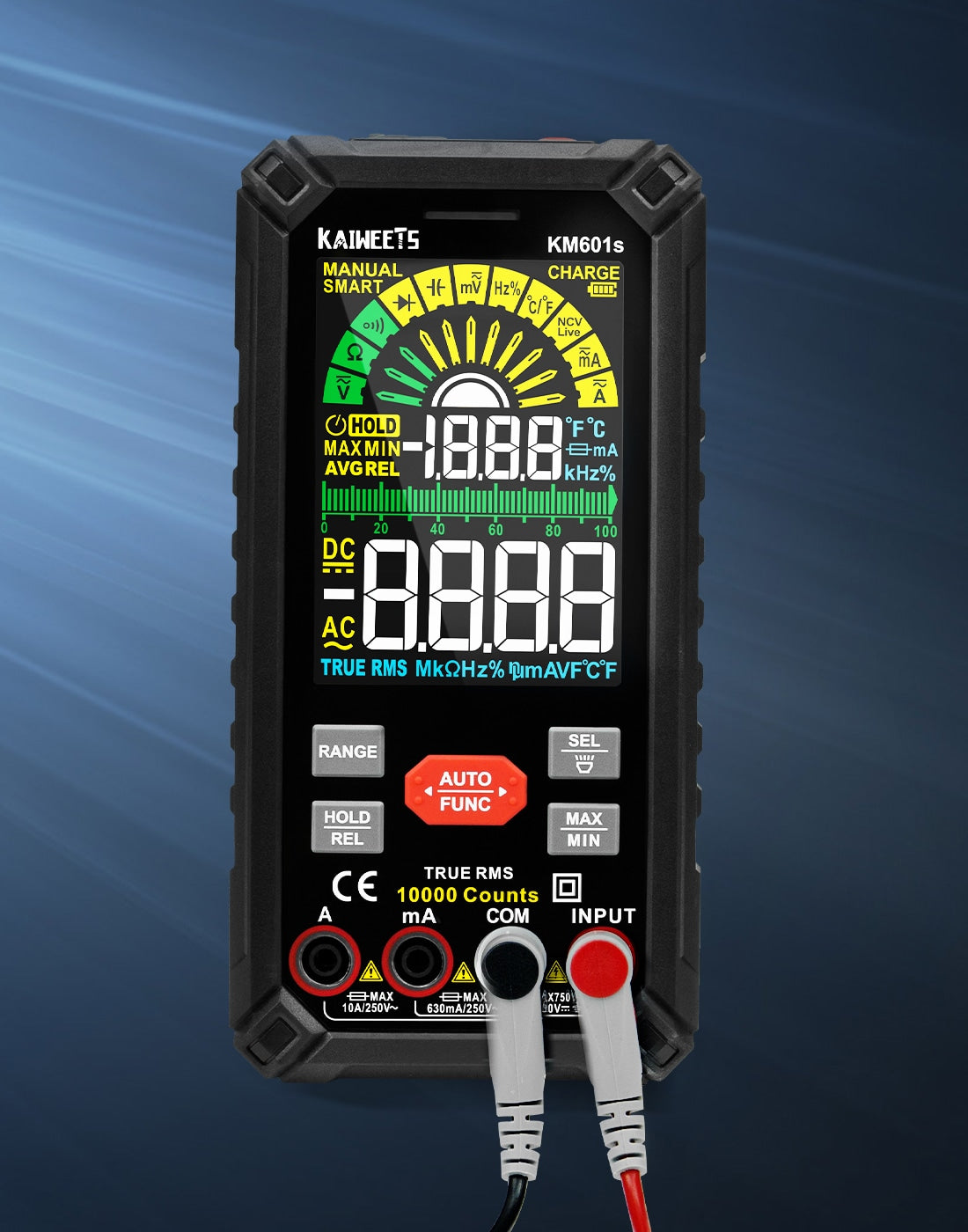 Safe & Reliable
CAT.III 1000V, CAT.IV 600V overvoltage safety standards and pollution level 2. Anti-Burn with double fuses. Overload protection on all ranges.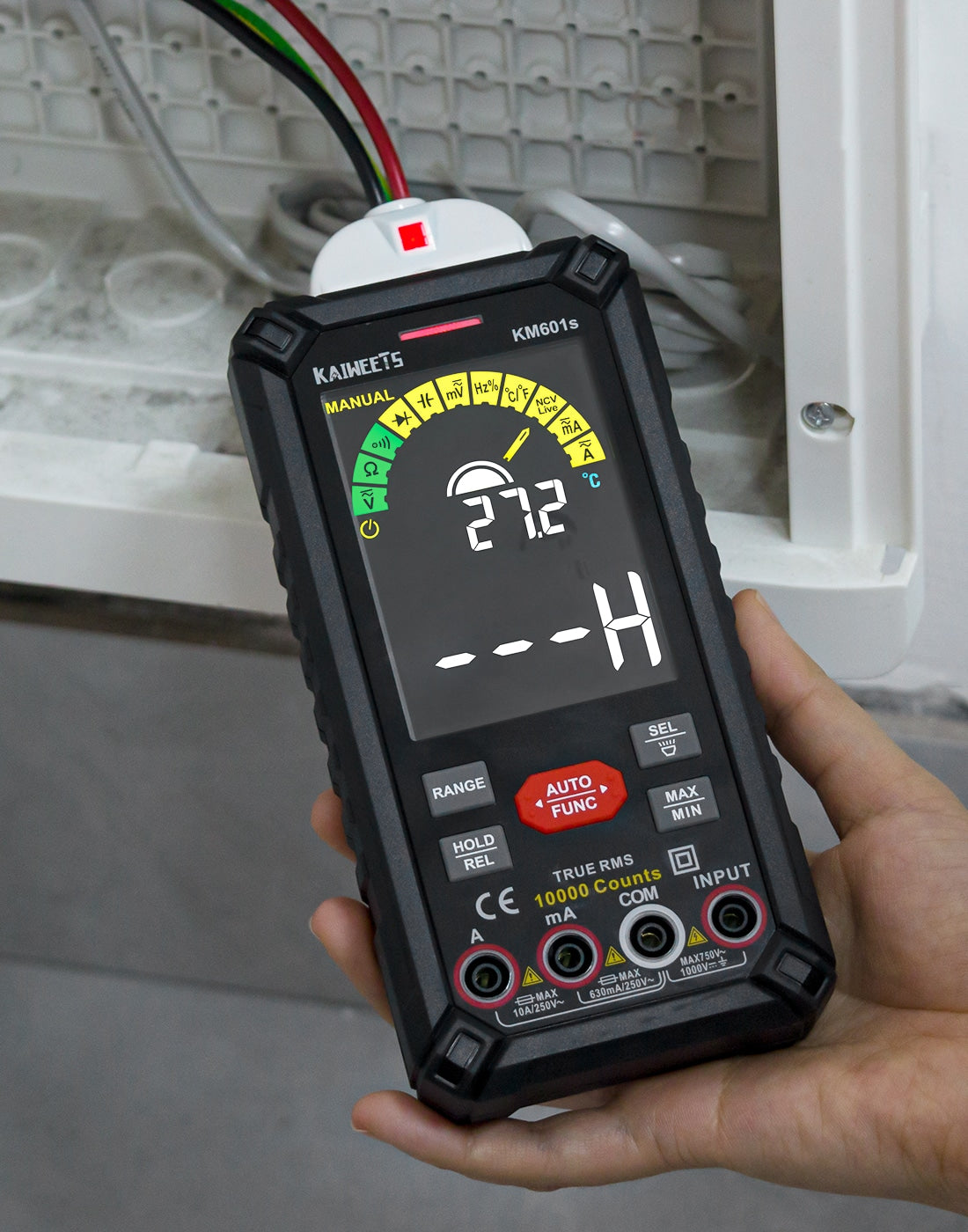 NCV
There is an NCV induction plate between the charging port and the power switch. Align the NCV with the live wire receptacle or wire. You can use it to detect possible voltages.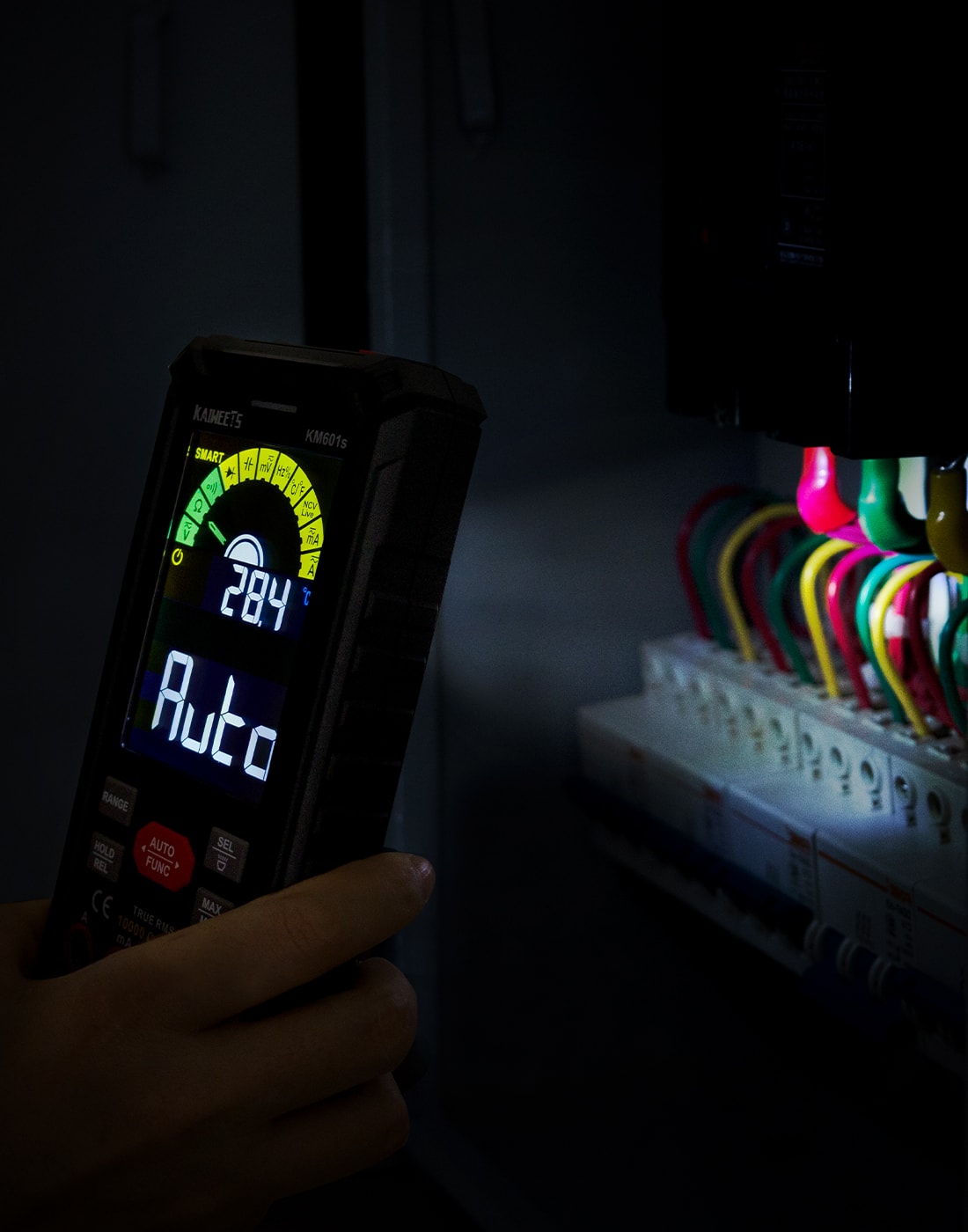 Built-in Flash Light
When there is no light or the environment is dark. Just turn on the flash to continue your inspection. The bright display also allows for better readings.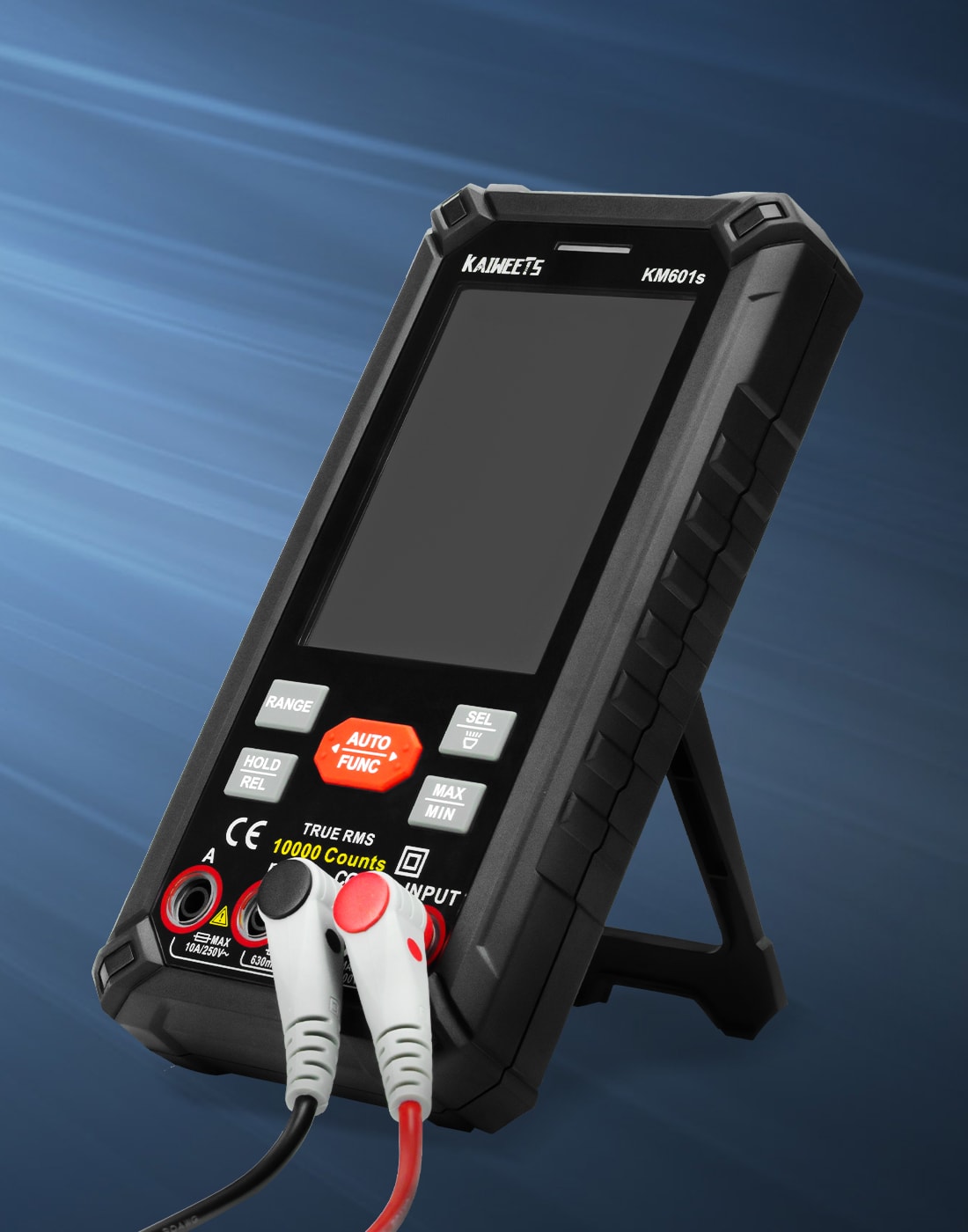 Back Bracket
A new bracket has been added to the back of the meter. Let you use and read more conveniently.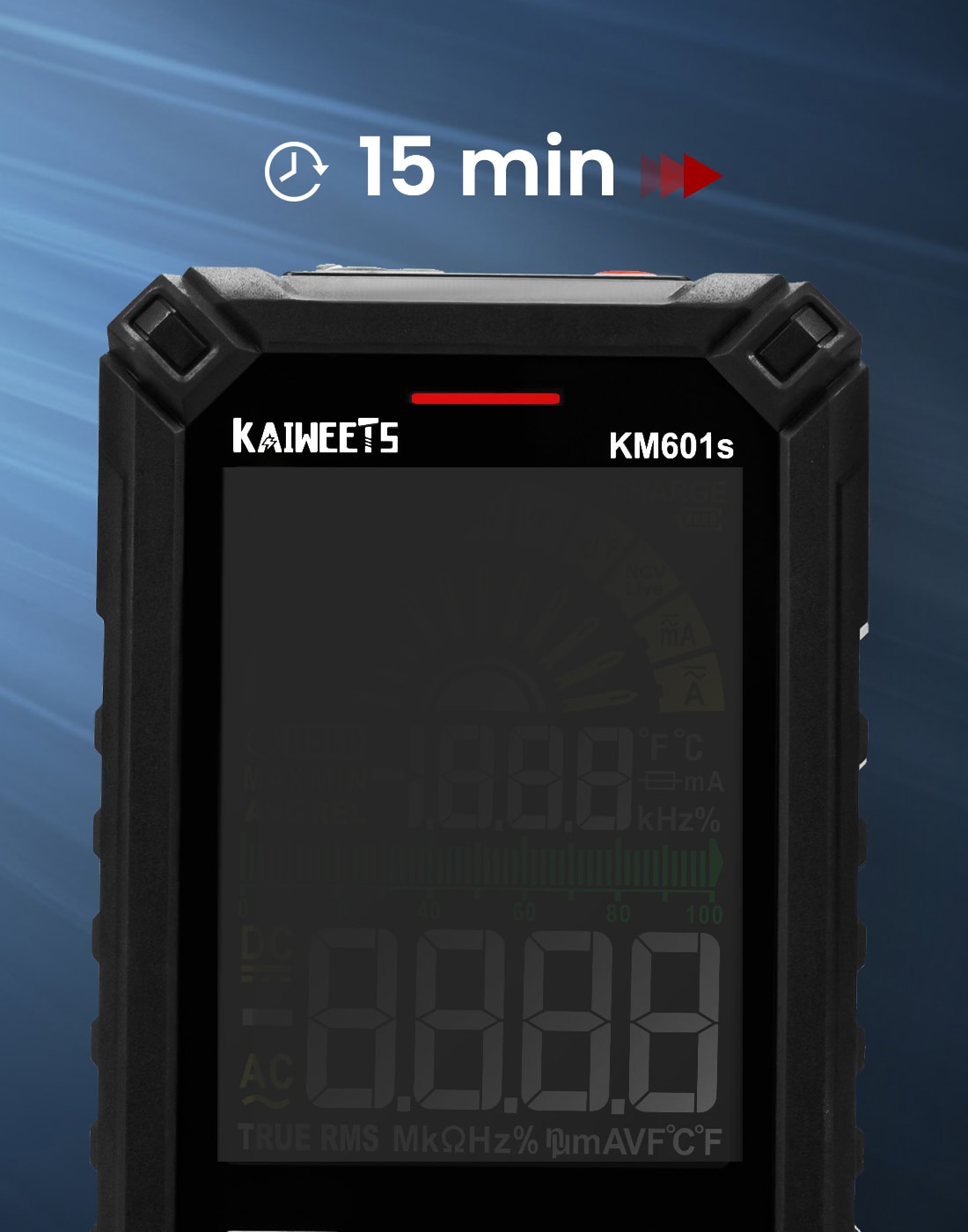 Automatic Power Off
Without any operation in about 15 minutes, the multimeter will automatically shut down. Save the power of the multimeter and use it for a longer period of time.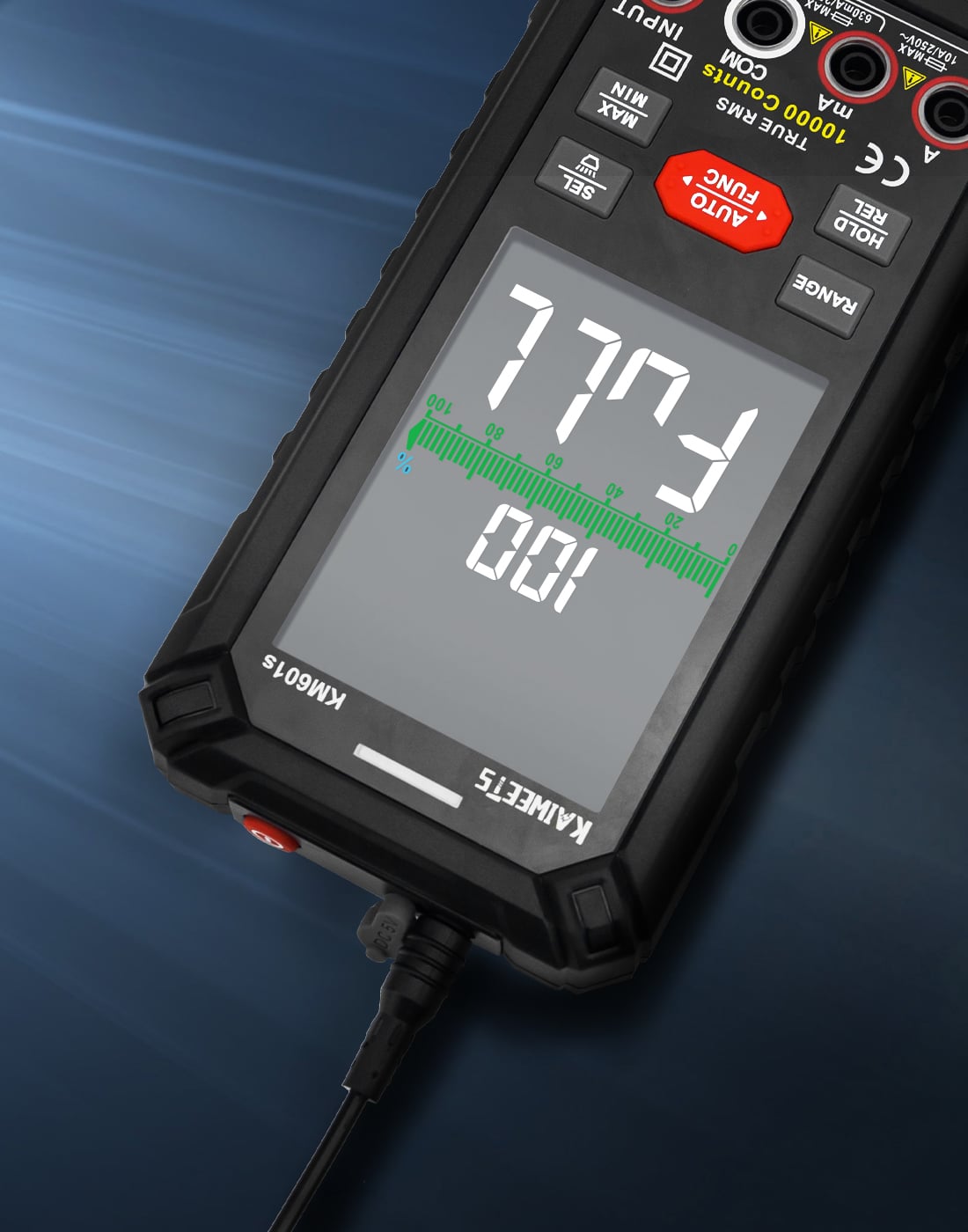 Rechargeable
Comes with a 5V DC charging port. You can recharge it repeatedly. Built-in 1200mAH battery. Let the multimeter last longer. Let you no longer need to manually replace the battery.