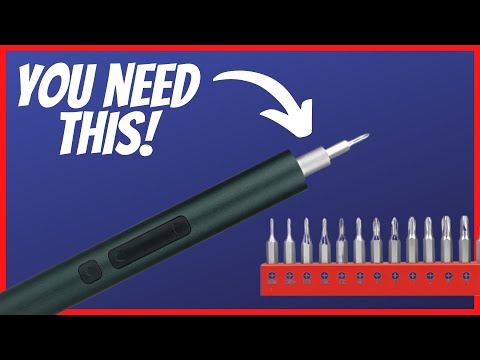 KAIWEETS ES20 Electric Screwdriver Set 137 in 1 Cordless Precision Power Screwdriver Kit
15% OFF New Arrivals, CODE: NEW15
Free Delivery

5-10 Business Days to America and Europe.
15-30 Business Days to Other Areas.

Free Return Warranty

30-Day No-Hassle Returns
3-Year Warranty

Shipping from US Facilities
Fraud Prevention: Your Payment is Safe & Secure.
Screwdriver Set 137 in 1: This electric screwdriver set has 137 units: including 120 precision CRV silver nickel bits, 1 suction cup with SIM pin, 1 metal pry bar, 120 mm POM pry tool, 1 flexible extension shaft, 1 cleaning brush, 1 angled tweezer, 1 magnetizer/demagnetizer, 1 electric screwdriver handle, 1 magnetic pad, 1 USB data cable, 1 3 red thin triangle triangle pry pieces, 3 red thick triangle triangle pry pieces, 1H4X55mm extension shaft (assembled in the screwdriver)

CRV silver nickel bits: our bits are made of CRV material, CRV hardness range 50-55 HRC, each bit has its type engraved on the surface, so you can quickly find the bit you want.

High speed and torque adjustment: Our electric cordless screwdrivers are available with speeds up to 200 rpm (no-load speed) and adjustable torque (0.15-0.35Nm) for different needs. Combined with the forward and backward buttons of the electric screwdriver, different types of screws can be tightened or loosened quickly.

Wide use: Portable precision electric screwdriver tools are suitable for any professionals and hobbyists for repairing PCs, laptops, game consoles, watches, toys and eyeglasses, etc. Easy to use: Our screwdriver set has a magnetic

screwdriver head easy to assemble between the screwdriver head and handle, and the frosted screwdriver handle is easier to control when using. The buttons are all independent, you just need to press and hold the button to work.