KAIWEETS HT206A Clamp Meter - TRMS 4000 Counts
Free Delivery

5-10 Business Days to America and Europe.
15-30 Business Days to Other Areas.

Free Return Warranty

30-Day No-Hassle Returns
3-Year Warranty

Shipping from US Facilities
Fraud Prevention: Your Payment is Safe & Secure.
Auto-Ranging Clamp Meter: The meter measures AC current to 600 amp, AC and DC Voltage to 600 V, Resistance to 40MΩ, and Capacitance to 4MF. Does not measure DC Current.
True-RMS Amp Meter: The sensing meter accurately measures distorted waveforms and provides true readings when measuring linear or non-linear loads.

Advanced Functions: Auto-off of inactivity after 15 minutes, Data Hold, MAX/MIN Reading, Low Battery Indicator, and Continuity Loud Buzzer.

Two-Color Backlight and Work Light: Two-color backlit LCD Display - When the voltage > 80V, the current > 3A, the LCD backlit screen turns orange to warn you, The LCD Backlit Screen and Work Light make it easy to use in a dark working area.

Superior Safety and Service: Standard IEC 61010-1, CAT III 600V. Double insulation. 36 Months of product service provided. 7/24 Customer Service.
SPECIFICATION
Item Weight
0.43 KG
Product Dimensions
7.5 x 2.8 x 1.3 inches
Batteries
2 AAA batteries required
Security standard
IEC 61010-1, IEC 61010-2-032 IEC 61010-030, IEC61010 CAT.III 600V
Upgraded Specification
● DC Voltage: 400mV / 4V / 40V / 400V / 600V Accuracy: ±(0.5%+5)
● AC Voltage: 4V / 40V / 400V / 600V Accuracy: ±(1.0%+5)
● AC Current: 4A / 40A / 400A / 600A Accuracy: ±(2.5%+5)
● Resistance: 4nF / 40nF / 400nF / 4uF / 40uF / 400uF / 4mF Accuracy: ±(4.0%+5)
● Capacitance: 4nF / 40nF / 400nF / 4uF / 40uF / 400uF / 4mF Accuracy: ±(4.0%+5)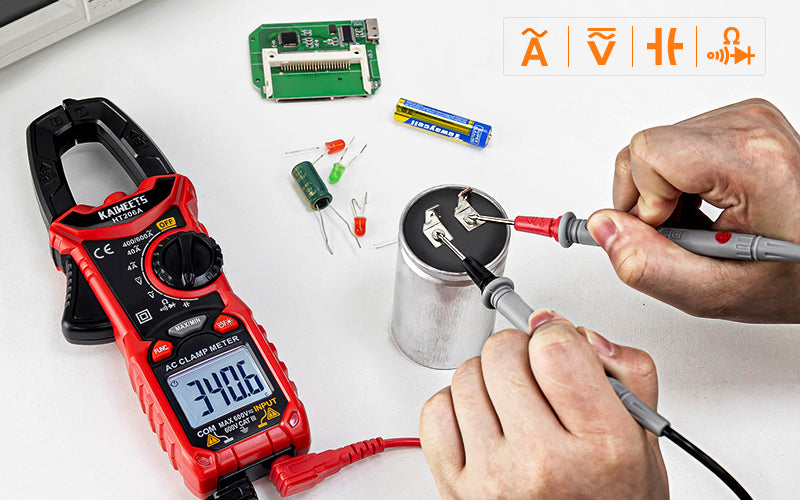 Kaiweets
Multi-Function
Accurately measure resistance, capacitance, diode, continuity. Easy to use in laboratory factories and homes.
Kaiweets
Why can't I directly test the power cord?
There will be no reading if you directly test the power cord. You need to use an AC line splitter tool separates the neutral and the hot wire.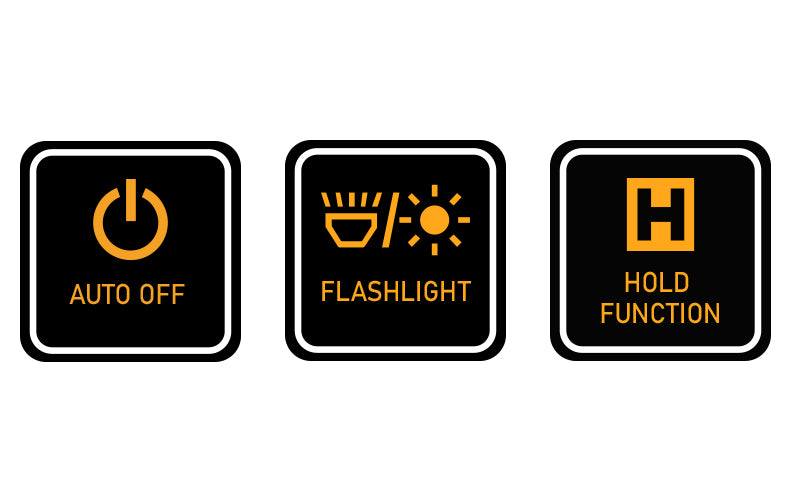 Kaiweets
Advanced Function
Hold Function
Freezes the display reading. Reading is released when button is pushed a second time.
Automatic Shutdown
If there is no operation within 15 minutes, the clamp meter will automatically shut down. Effectively save power.
Flashlight and Word Light
In a dark environment, turn on the flashlight and backlight, you can easily work.
Kaiweets
Can DC current be measured?
NO. This meter can only measure AC Current.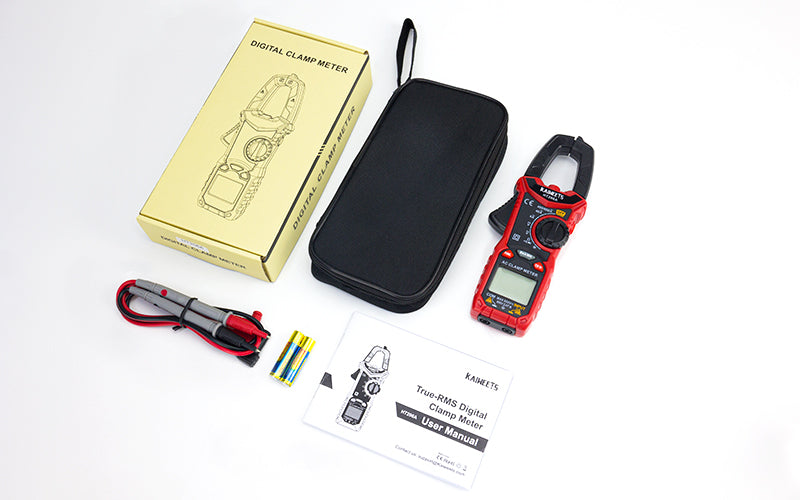 Kaiweets
What will you get?
1 x KAIWEETS HT206A Digital Clamp Meter
2 x Test Leads
2 x AAA Batteries (Assembly Required)
1 x User Manual
1 x Clamp Meter Bag
1 x Packing Box