KAIWEETS KVB01 12V24V Car Battery Tester
US/EU Warehouse

3-7 Business Days to America and Europe.
15-30 Business Days to Other Areas.

Free Return Warranty

30-Day No-Hassle Returns
3-Year Warranty
Fraud Prevention: Your Payment is Safe & Secure.
1. Test and check your 12V lead-acid batteries. This battery tester provides SOH (State of Health), SOC (State of Charge), voltage, current, rating and many other easy to understand analytical data. It is compatible with 100-2000CCA conventional submerged, AGM flat/spiral, EFB and GEL for optimal performance.
2. It uses a safe passive test method that only energizes when properly connected. You can test batteries in a wide range of vehicles including cars, motorcycles, trucks, RVs, ATVs, SUVs, boats, yachts, lawnmowers, and even golf carts without having to charge the unit first.
3. The battery health test will determine if the battery is in good operating condition. A start test will determine if the electrical system has enough power to start the engine. Check that the charging current, rectifier diode, and generator are working properly. This handy car battery analyzer ensures that your summer road trips don't end up flat.
4.For reliable, secure connections during testing, the high-quality copper clamps feature anti-reverse polarity and anti-sparking.
5.Small and compact, it can be easily stored in the glove box or center console. The fast and accurate results of this battery load tester will allow you to decide if your car battery needs replacing or a quick start, making it a great choice for auto stores, garages, and DIY users who check their batteries frequently.
KVB01 SPECIFICATION

 

Item Weight

0.7 KG

Product Dimensions

24cm x 14cm x 9cm

Battery Voltage Range

DC 9V-35V

Range of Battery Types Test

multiple battery types ( Regular-Flodded, AGM, VRLA, EFB, GEL, SLI, SLA )

Test Lead Length

2 meters

Testing Function

Battery test ( display SOC, SOH, Voltage, CCA, RES ) , cranking test, loading test, charging test

Battery

Powered by Accumulator
1 x KVB01 Car Battery Tester
1 x User Manual
1 x Durable EVA Bag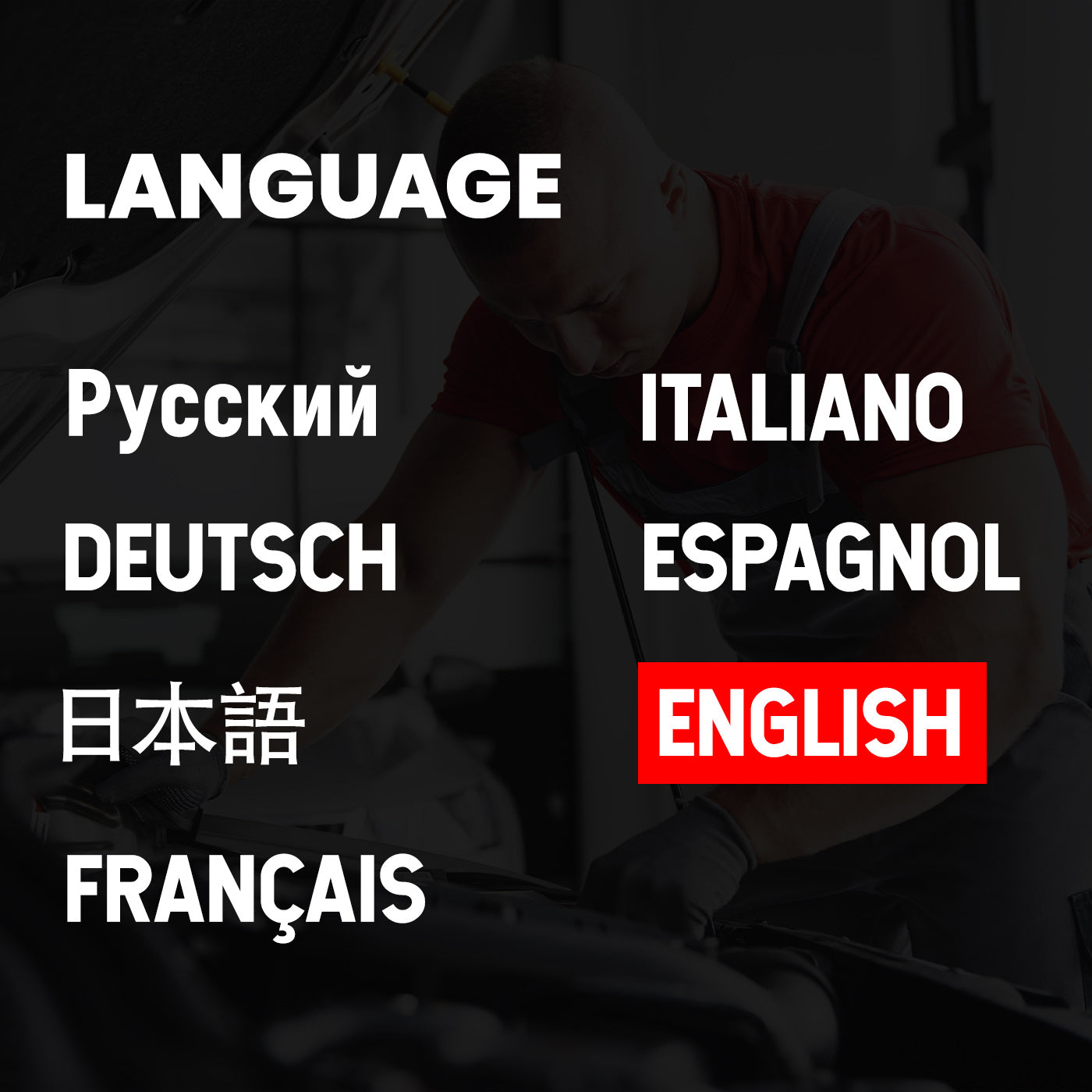 Multiple Language Options
Provide multi-language interface , support multi-language display and operation (RU/FR/JP/DE/IT/ES/EN).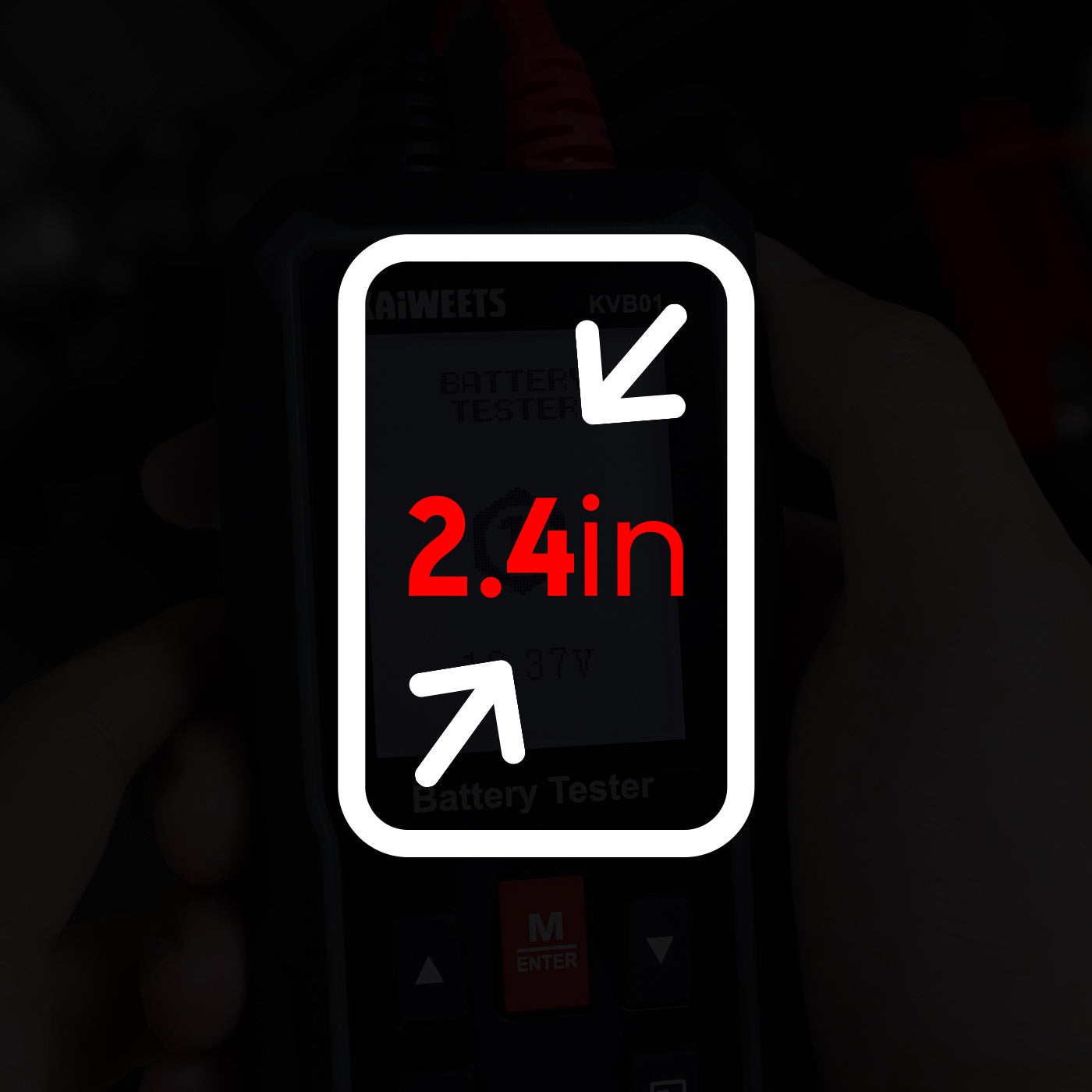 2.4'' Screen
Provide a clearer, more readable 2.4'' display to easily view and analyze test results.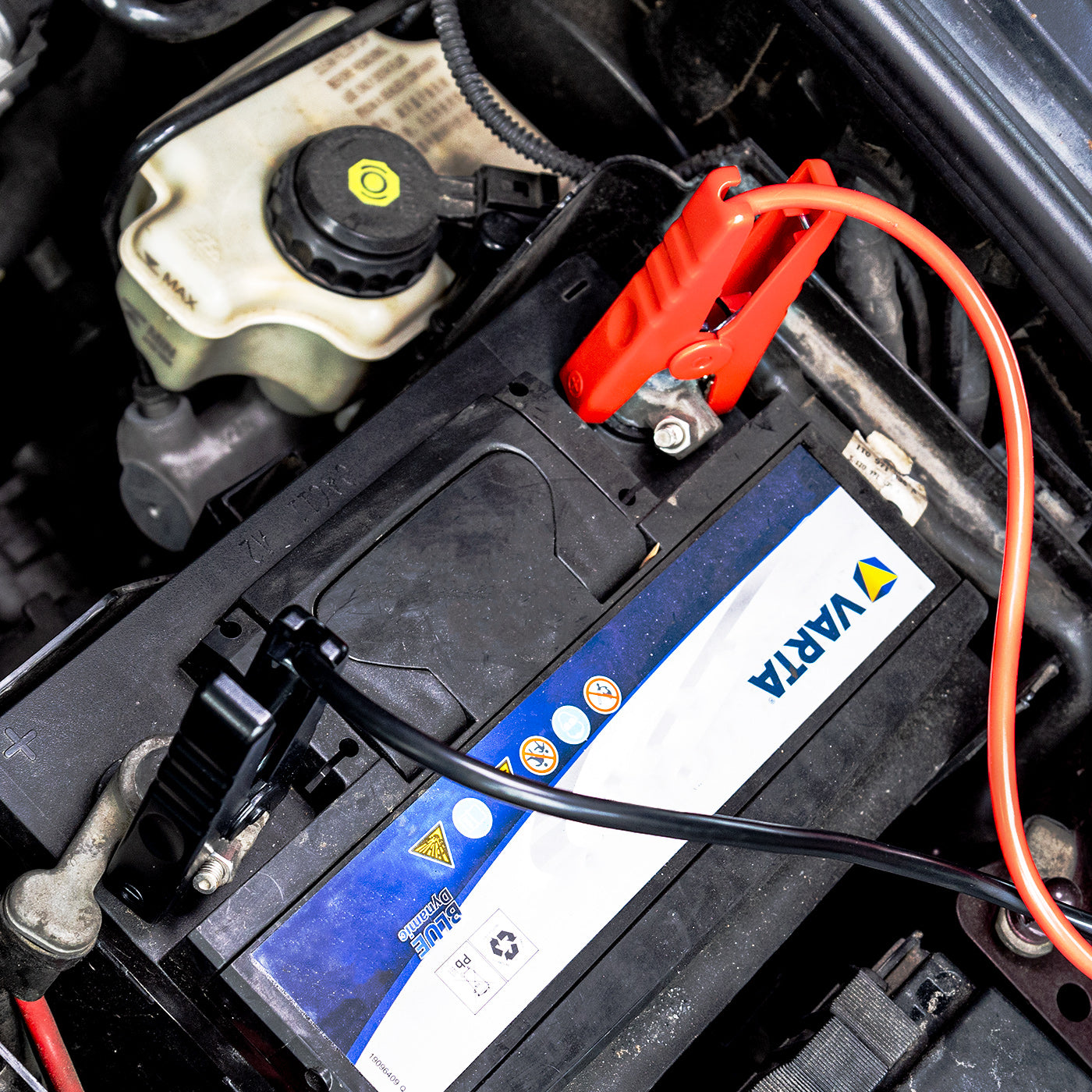 Reverse Connection Protection
Effectively protect the battery tester itself from damage caused by reverse battery connection.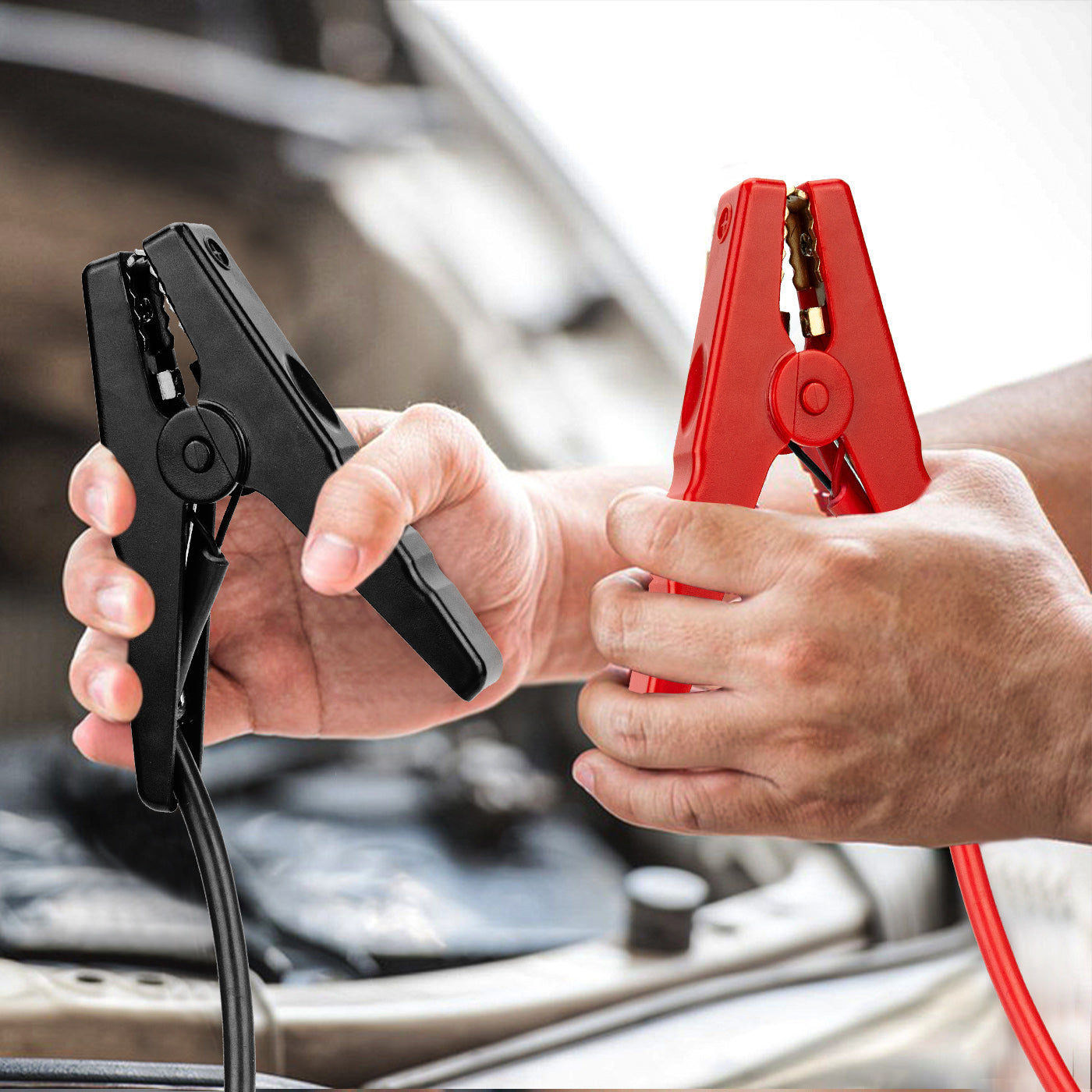 High-Quality Copper Clamps
Equipped with an insulated protective sleeve on the clip, providing a safe testing experience.
Automotive Battery Tester 12v 24v
Provide car battery testing for 12V/24V various lead-acid batteries including regular flooded, VRLA, GEL, AGM, SLA, and SLI batteries, accurately displaying battery status in seconds. Plus widely used in pretty much all car batteries like motorcycles, trucks, boats, SUVs, golf carts and lawnmowers.
Comprehensive Battery Analysis
A must-have tool for the garage. Whether measuring battery voltage, internal resistance, SOC (state of charge), SOH (state of health), CCA, or loading, cranking, and charging test, a wide range of test functions of the practical battery and alternator tester help to diagnose battery faults in a timely manner.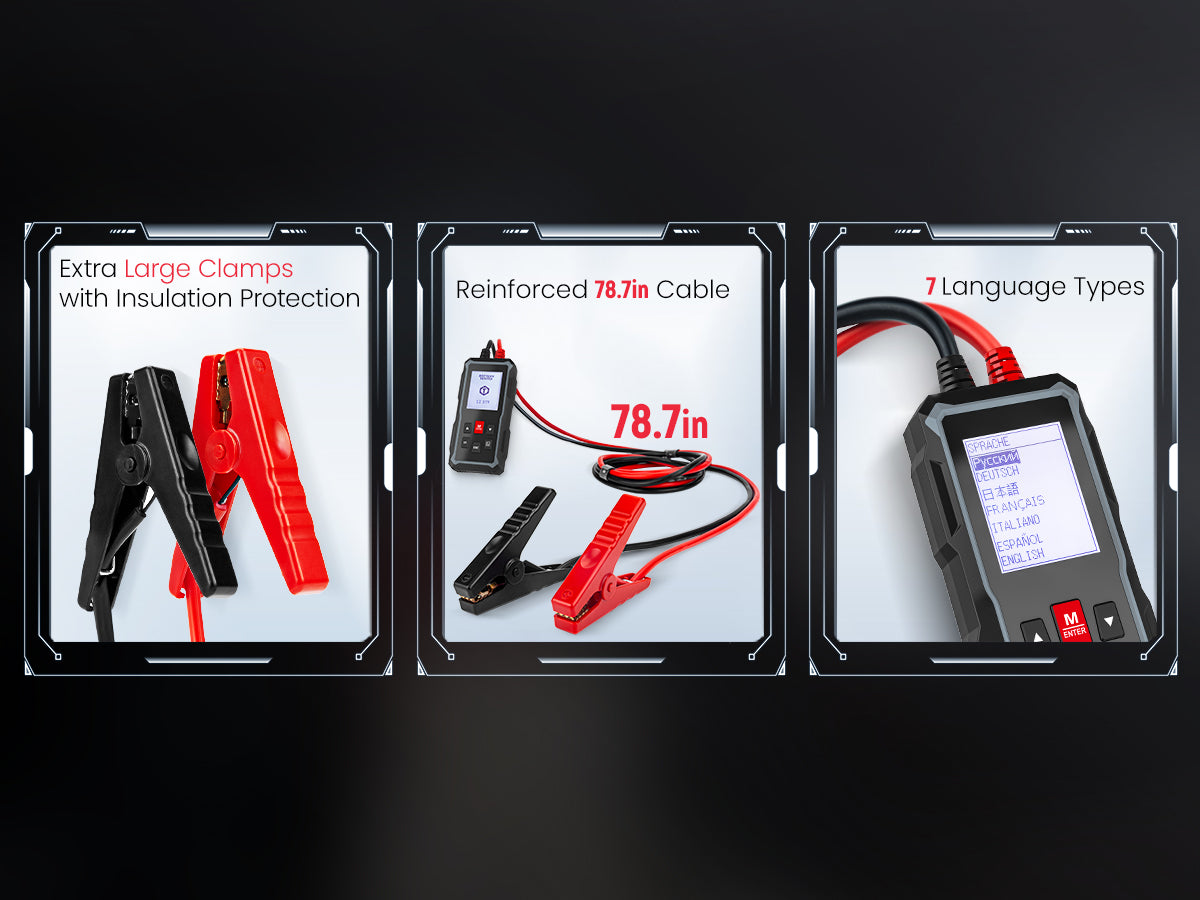 Safety & Buy Assurance
IEC/EN61010-1 certified. To ensure safety, this battery checker adopts reverse connection protection. Accidentally reversing the two wires will not work to prevent the internal circuit from burning. The package comes with a digital battery tester, user manual, carrying case, safety copper clips and 2m test leads. It is also backed by 36 months of high-quality service and lifetime technical support.