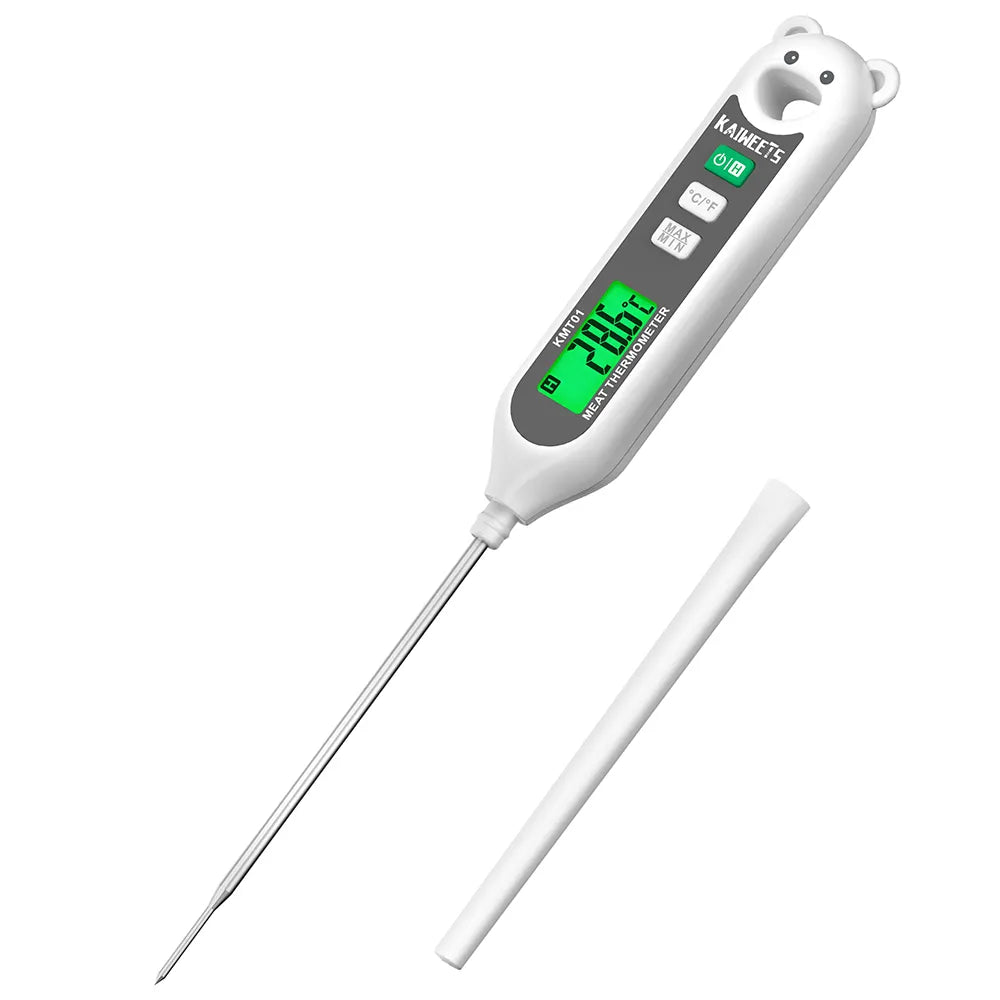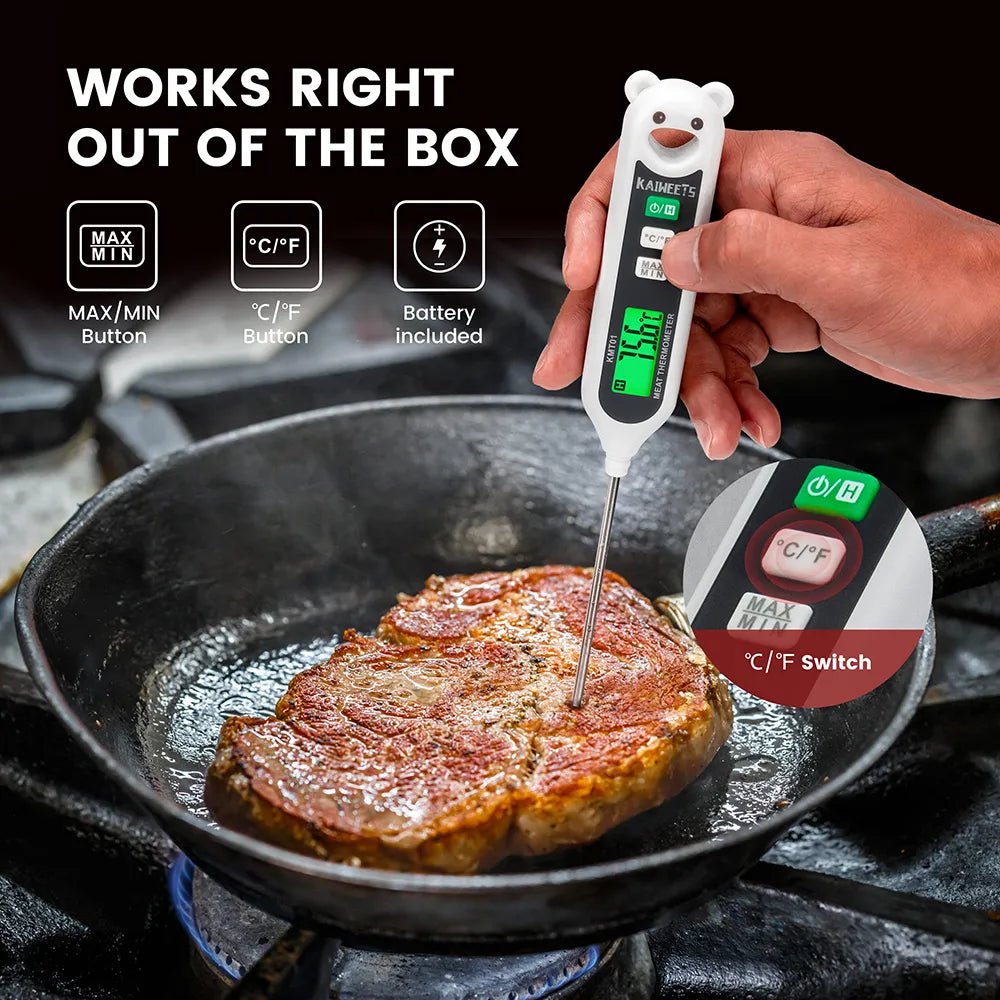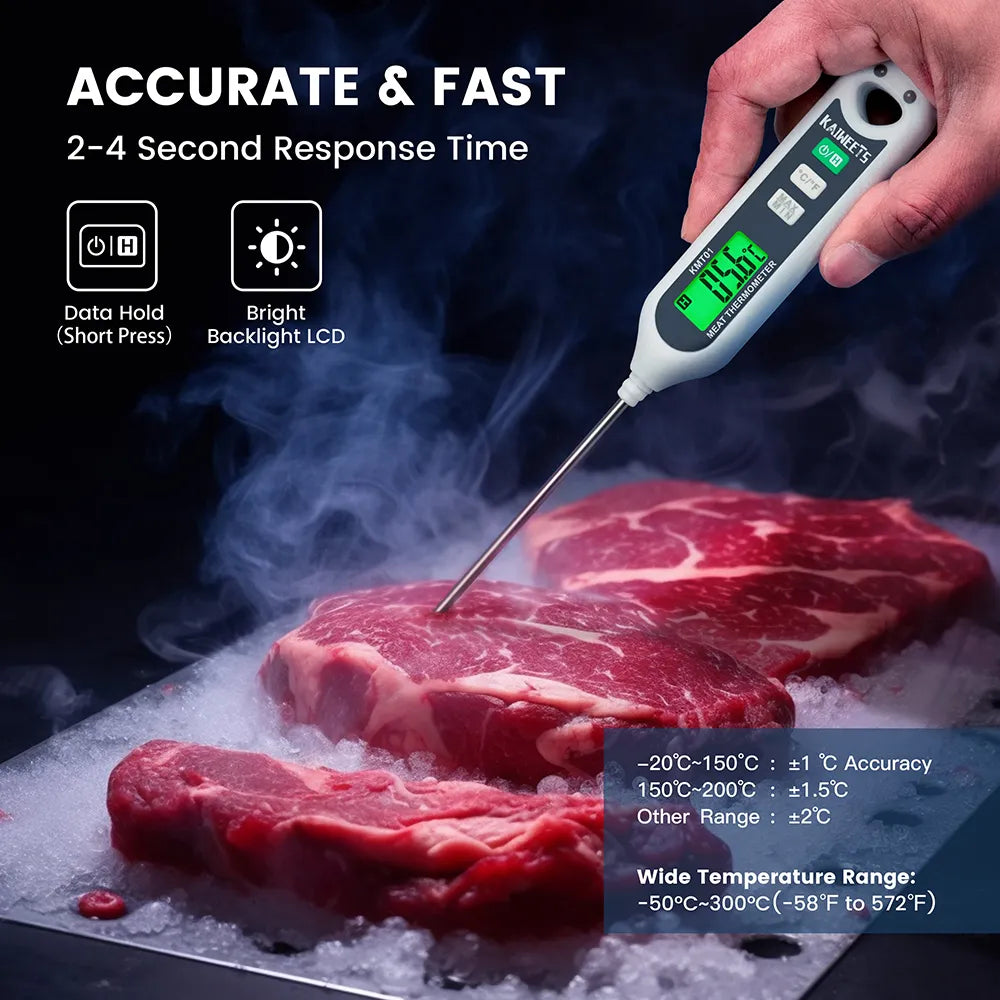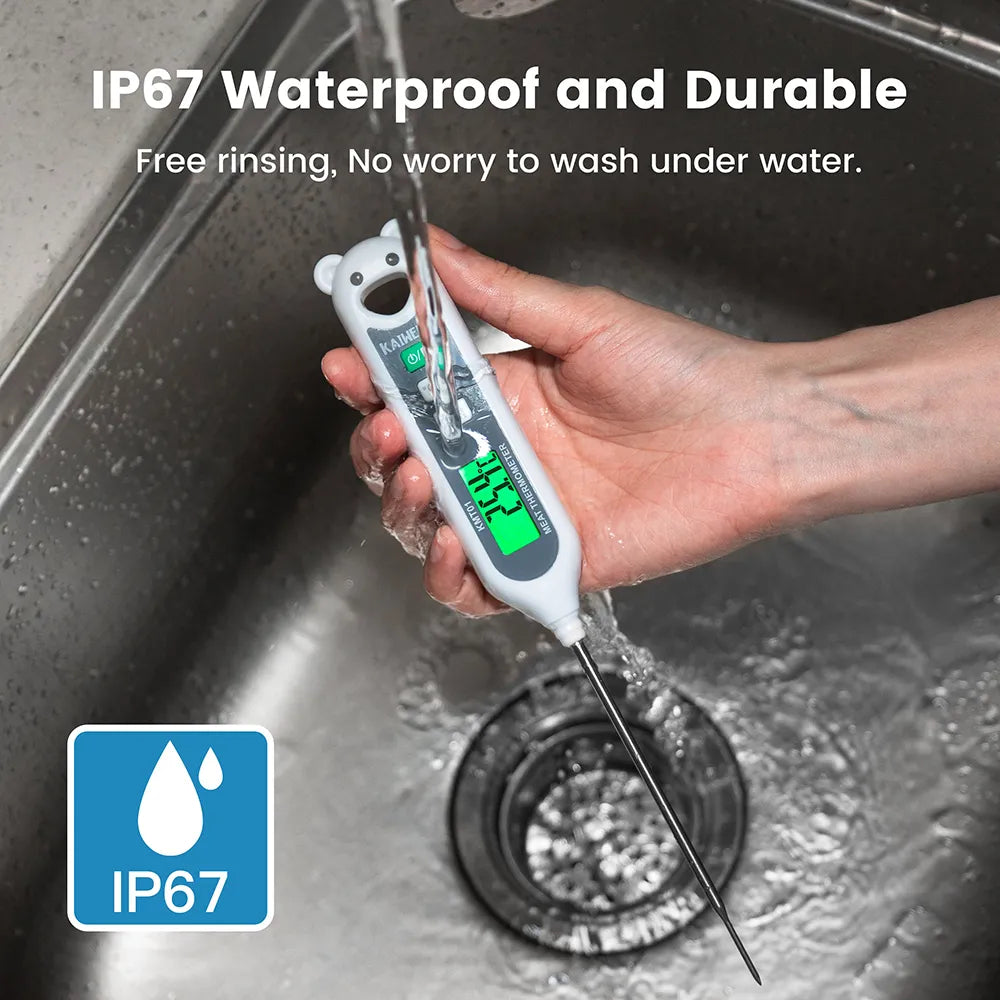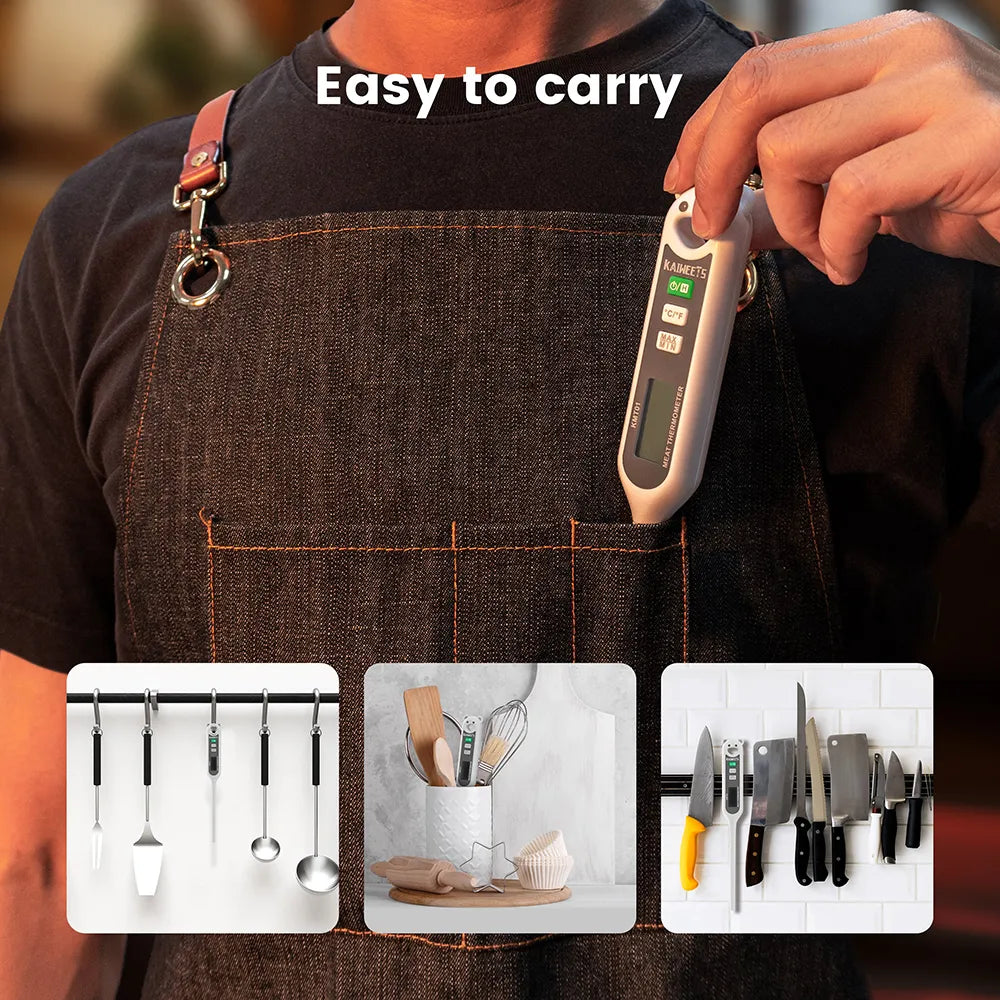 KAIWEETS KMT01 Digital Waterproof Instant Read Meat Thermometer
Free Delivery

5-10 Business Days to America and Europe.
15-30 Business Days to Other Areas.

Free Return Warranty

30-Day No-Hassle Returns
3-Year Warranty

Shipping from US Facilities
Fraud Prevention: Your Payment is Safe & Secure.
Fast & Accurate:
Discover the convenience of our digital meat thermometer, providing accurate temperature readings within 2-3 seconds and with a tolerance of +/-1 degrees. Instantly uncover the precise temperature of your food! It is perfectly suited for grilling, candy, BBQ, smoking, and meat.
Bright Digital Display & Convenient Storage:
Our fast grill thermometer features a bright green backlight screen, guaranteeing clear temperature visibility even in dimly lit kitchens or under excessive outdoor lighting. Additionally, its large hanging hole provides convenient storage options. With these features, you can fully enjoy every aspect of your cooking experience!
Multi-function & Wide Range:
This multi-function meat thermometer offers dual display options for both Celsius (°C) and Fahrenheit (°F), covering a wide temperature range from -58°F to 572°F (-50°C to 300°C). This allows you to easily read the temperature of various items. The "Hold" button allows you to lock the temperature reading, enabling a closer examination. The Max/Min button lets you conveniently track the highest and lowest temperatures recorded during your temperature measurements.
IP67 Waterproof & Long Stainless Probe:
Our waterproof fast thermometer has obtained IP67 waterproof certification, making it extremely easy to clean. You can confidently rinse it under running water without any concerns about damaging the device (NOTE: Please clean it by wiping with a soapy cloth or rinsing it, and DO NOT soak it or put it in a dishwasher.) The 4.5-inch long probe is specifically designed with stainless steel, ensuring it is non-toxic and safe for direct contact with food.
Customer Service:
If Accuracy and durability is what you seek in a meat thermometer, look no further. We offer a 3-year after-sales service from the date of your order and lifetime technical assistance. If you have any inquiries, please don't hesitate to contact us.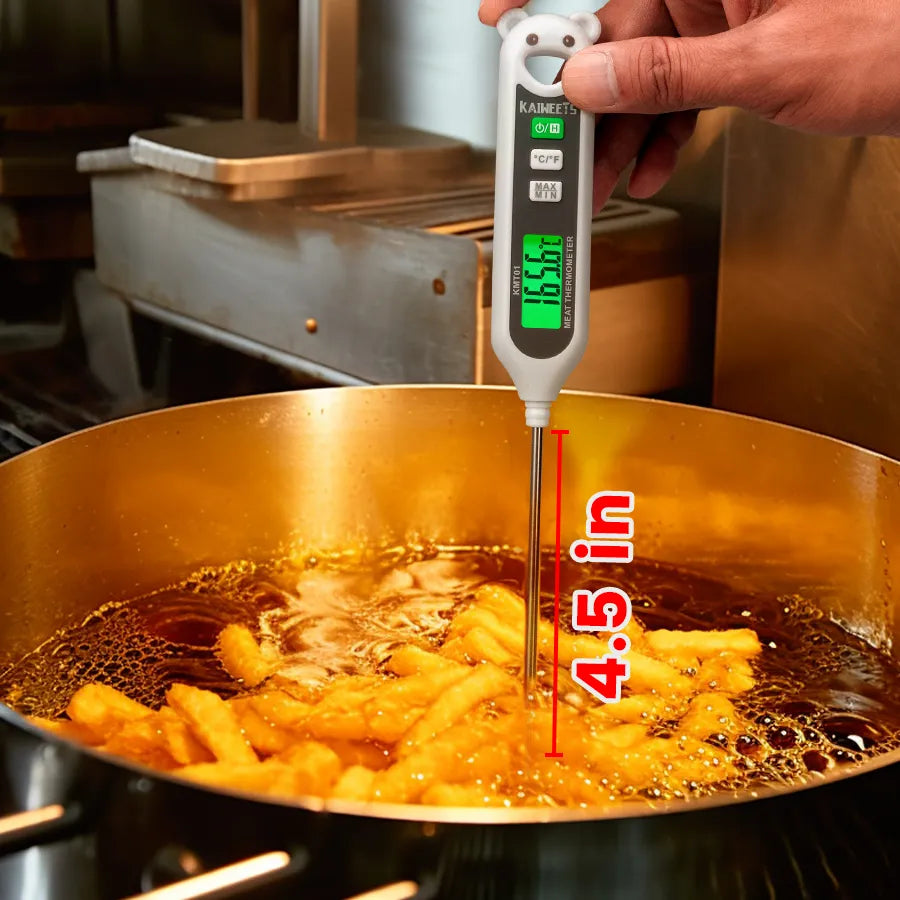 Super-Long Stainless Steel Probe
The stainless-steel food-grade probe of our 4.5" super-long digital cooking thermometer allows you to maintain a safe distance from heat sources while grilling or using the oven. You can effortlessly obtain temperature readings without any concerns about potentially burning yourself!
℃/℉ Switching
During usage, you have the flexibility to effortlessly toggle between Celsius(℃) and Fahrenheit(℉), accommodating individuals with varying preferences for unit usage.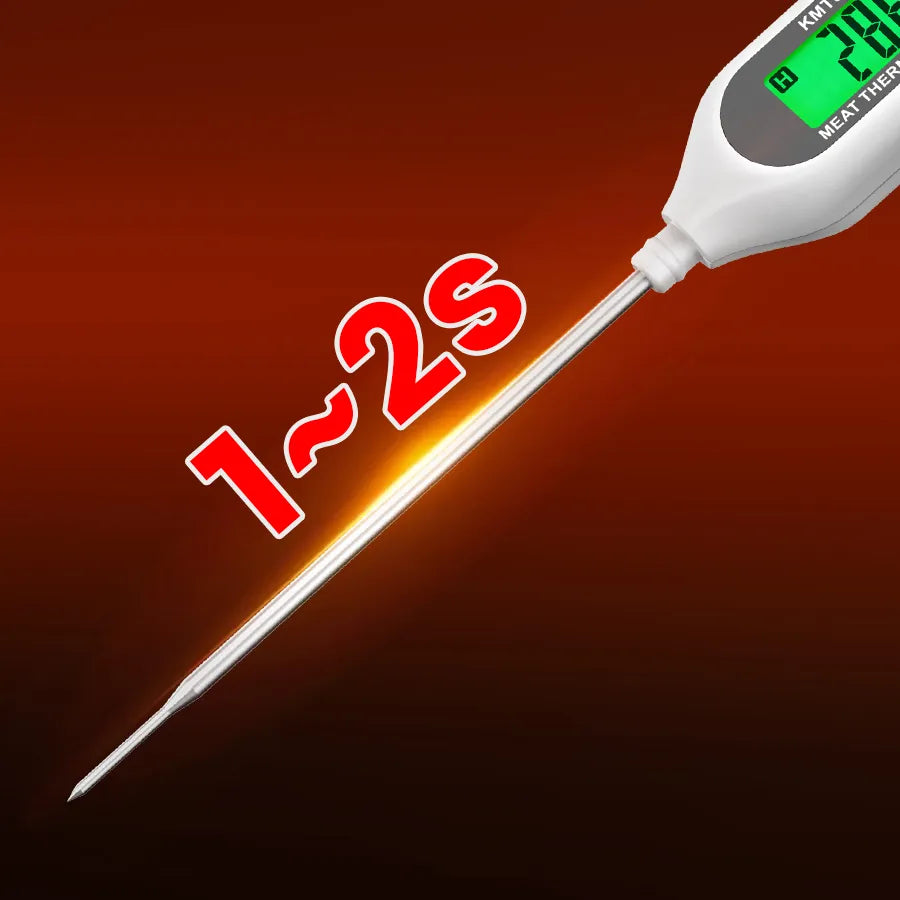 Precise and Rapid Readings
The rapid-response food thermometer equipped with a remarkably precise sensor provides temperature readings within a mere 2-3 seconds, with an accuracy of ±1 degree. Rest assured that your meat will always be cooked to perfection with unwavering confidence!
Expansive temperature coverage
The digital cooking thermometer boasts an extensive temperature range, capable of measuring frigid temperatures as low as -58°F (-50°C). Moreover, the sensor is highly precise and dependable, capable of enduring temperatures as high as 572°F (300°C). This ensures that you can relish in the most delectable outcomes when preparing any kind of meat!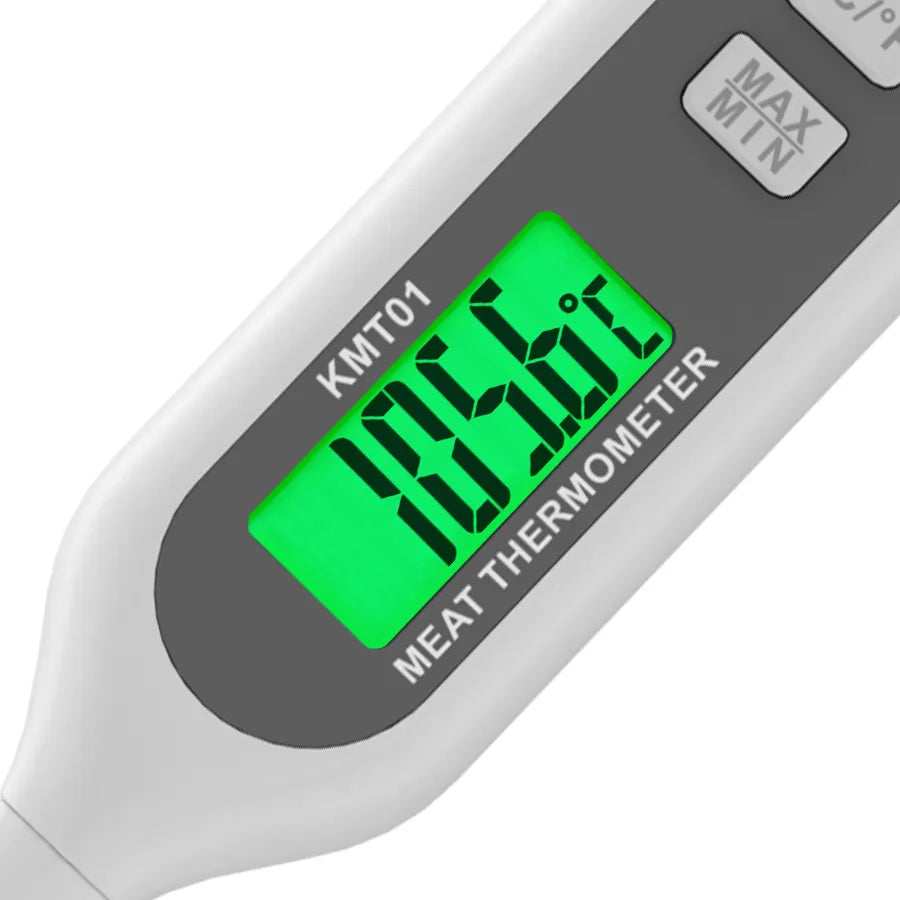 Bright Green Digital Screen
Features a bright green backlight digital display, ensuring unobstructed temperature visibility even in dimly lit indoor environments or under excessive outdoor lighting conditions.
User-Friendly
The temperature hold feature, Celsius Fahrenheit switch, and maximum and minimum temperature value switch—all three functions of the button conveniently located in the same place—allow you to effortlessly switch to the desired function, greatly streamlining the temperature measurement workflow.