KAIWEETS VT501 Smart Automotive Circuit Tester
US/EU Warehouse

3-7 Business Days to America and Europe.
15-30 Business Days to Other Areas.

Free Return Warranty

30-Day No-Hassle Returns
3-Year Warranty
Fraud Prevention: Your Payment is Safe & Secure.
Smart Mode: The digital automotive tester defaults to SMART mode. In the SMART mode, the meter can automatically measure and identify the AC/DC voltage, polarity, resistance, and continuity. It can automatically detect the measurement content and choose the optimal range for the highest precision, eliminating the need for any additional operations on your part!
Wider Voltage Range: The smart automotive circuit tester with 0.8-100V DC voltage testing range, perfect for examining different electrical circuits in vehicles. Our upgraded technology allows for measuring a maximum voltage of 100V, surpassing the typical 60V maximum voltage capability of other auto electrical testers available on the market.
Wide Usage & User-friendly: The digital test light allows for the fast test of automotive headlights, taillights, turn signal circuits, fuse connections, faulty sockets, as well as other 0.8-100V DC wirings and circuits. The premium 78.74-inch long PU spring wire provides flexibility and durability compared to standard cable wires and offers convenient use and storage. It features a large-sized alligator clip for effortless one-hand operation, ensuring improved working efficiency.
Precise LED Digital Display & Probe Guard Protection: The automotive circuit tester features a clear and bright green backlight LED digital display that provides accurate volt readouts. It offers a 0.1V resolution ratio with high accuracy. In comparison to LCD displays, the green LED reading display is guaranteed to be clear and visible both during the day and at night. Features a thick probe guard to protect you from accidental stab wounds while helping make the spring wire easy to carry.
3-Year After-Sales Service: If durability is what you seek in a circuit testing tool, look no further. we offer a 3-year after-sales service and lifetime technical assistance. If you have any inquiries, please don't hesitate to contact us.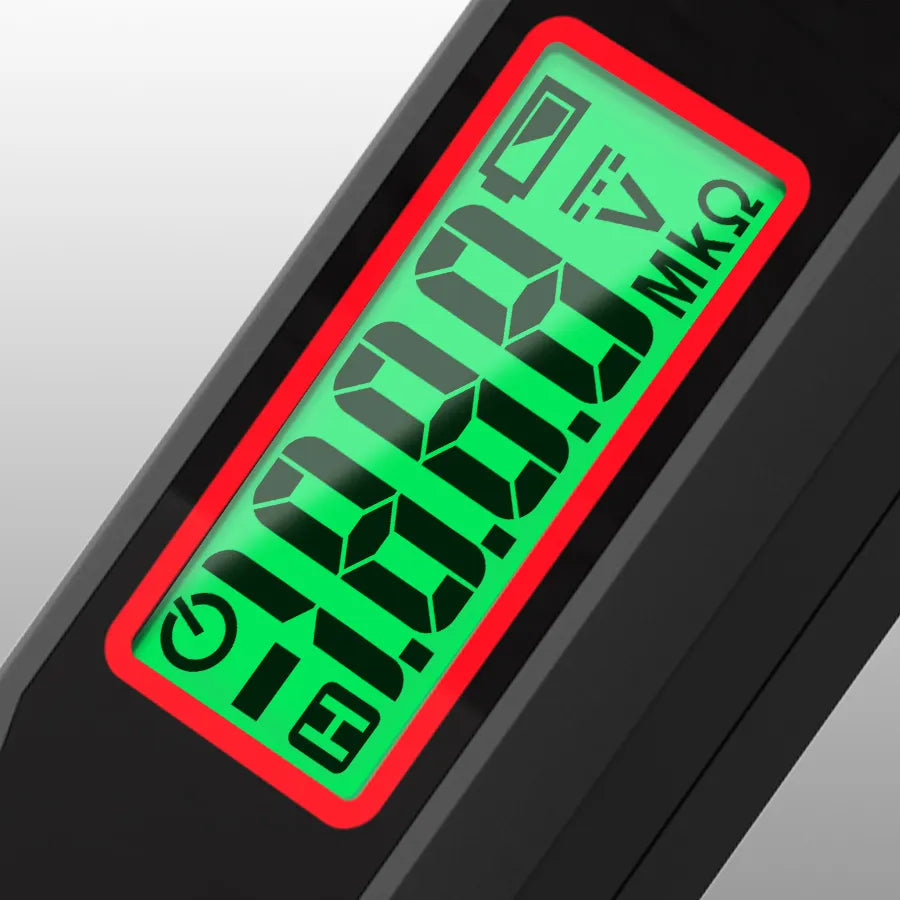 Bright Digital Display
Features a clear and bright green backlight LED digital display that provides accurate volt readouts, guaranteed to be clearly visible in both bright and dim environment.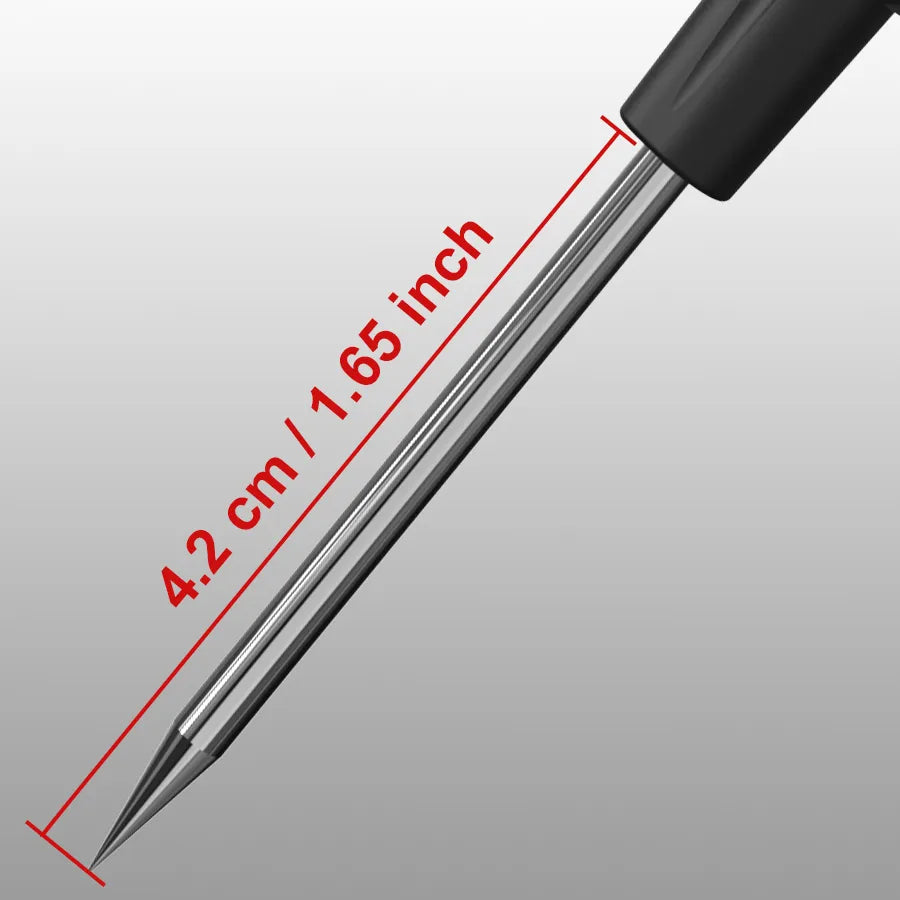 Long Copper-Nickel Plating Probe
The Copper-Nickel Plating Probe provides good electrical conductivity and the 1.65" probe ensures an effective safety distance to prevent the risk of electric shock.
Large-Sized Alligator Clip
A Large-Sized Alligator Clip to ensure that you can clip any object you want to test while facilitating you to be able to operate one-handed to improve efficiency.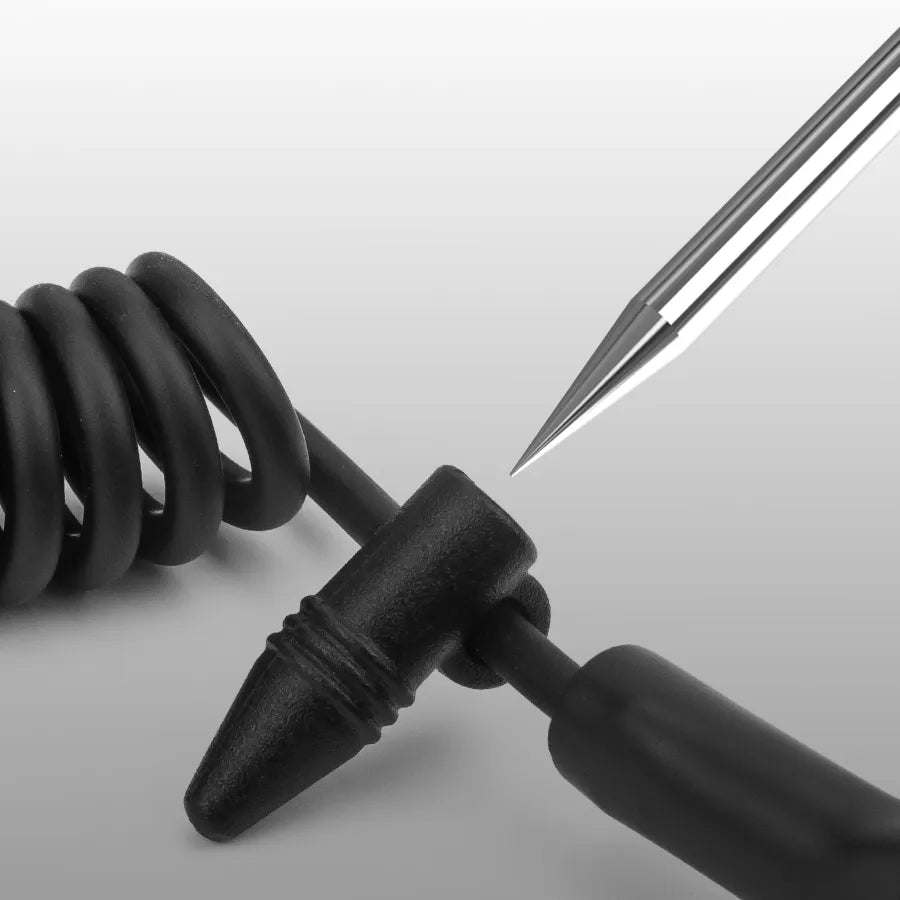 Thick Probe Cap
A Thick Probe Cap protects you from accidental probe punctures while helpingto make the spring wire easy to carry.