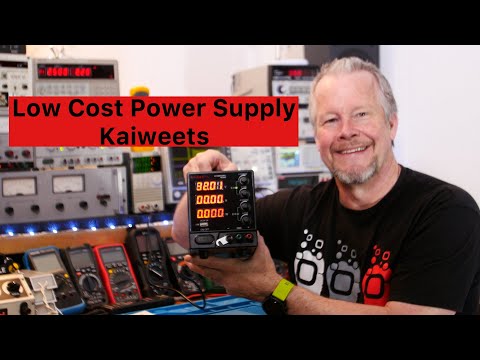 KAIWEETS PS-3010F DC Power Supply Variable 30V 10A
Free Delivery

5-10 Business Days to America and Europe.
15-30 Business Days to Other Areas.

Free Return Warranty

30-Day No-Hassle Returns
3-Year Warranty

Shipping from US Facilities
Fraud Prevention: Your Payment is Safe & Secure.
High Measurement Accuracy: Kaiweets 30V 10A DC power supply has a high resolution of 0.01V and 0.01A. The 4 LED digital display provides a more accurate readout for the voltage and current value, even visible easily in low-light conditions.

Constant Voltage & Constant Current Operation Mode: The easy-to-use rotary knob, coarse and fine could adjust the data of voltage and current digit by digit, which allows you to set the desired output resolution quickly and easily in 30V 10A.

5V/2A USB Interface & The design with an Elastic Handle: Kaiweets adjustable power supply could charge the device which you want to repair. It also features a large display that makes it easy and accurate to read voltages and currents. In addition, the design is portable and lightweight, which could help you to carry it easily.

Multiple Protections: Kaiweets bench power supply provides overvoltage, overcurrent, overtemperature, overload, and short-circuit to protect your device, prolonging the service life of the dc power supply.

Due to the special period, the shipping cost is increasing, this product will be charged an additional shipping cost of $15. Thank you for your support and understanding.
Rlated Blog: How To Use a DC Power Supply
SPECIFICATION
Item Weight
2.50 KG
Product Dimensions
11.2 x 5 x 6 inches
Material
PVC+Iron
Voltage
30.00 volts
Specifications
Input voltage: 110V/220V(±10%)/60Hz (selector switch on the back )
Output voltage: 0-30V Output current: 0-10A
Constant Voltage State
Voltage stability: ≤0.1%+10mV
Load stability :≤0.1%+5mV
Ripple & noise : ≤20mV r.m.s
Constant Current State
Current stability: ≤0.1%+10mA
Load stability :≤0.1%+10mA
Ripple & noise :≤20mA r.m.s
Electrical outlet
The electrical outlets are compatible only for EU countries and USA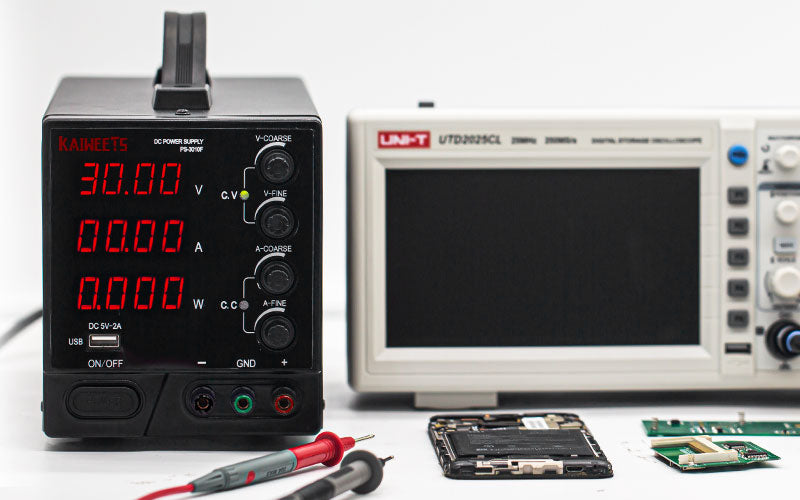 PS-3010F variable power supply is DC regulated power supply. It can output and display constant voltage and constant current, combined with a 5V voltage output with a USB interface, equipped with a cooling fan, limit current protection, thermal protection, voltage overload protection, and hort-circuit protection.
Easy to Operate
With special coarse and fine knobs, you can adjust the voltage and current data bit by bit, quickly and easily set the desired output resolution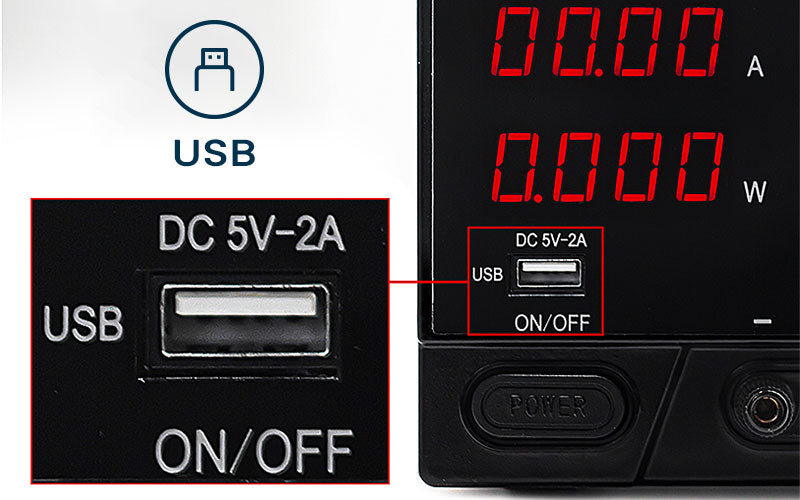 5V / 2A USB Interface
This adjustable power supply can charge the equipment you want to repair. Never worry about the equipment running out of electricity
Large Display
The large 4 LED digital display provides more accurate voltage and current readings. Even in the low-light conditions, you also can easily and accurately read value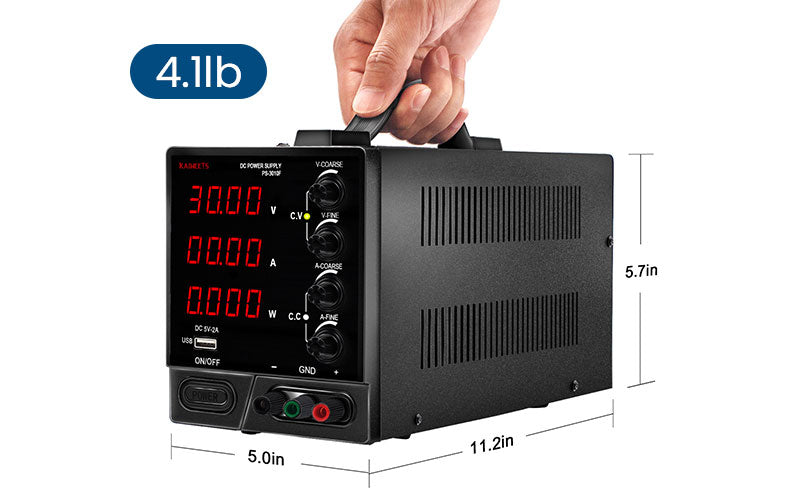 Compact and Light
Small Size: 5.0x11.2x5.7 inches KAIWEETS 30V/10A DC Power Supply can be easily taken to anywhere due to its light body
Temperature Control Cooling Fan
This cooling design protects the main body from high temperature and extends its use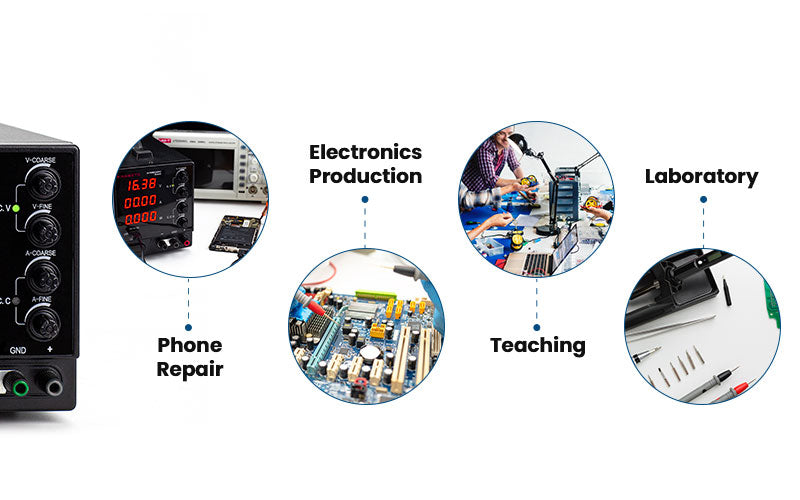 Multiple Usage Scenarios
KAIWEETS high precision power supply is a very stable regulated DC power supply; the output current and voltage are continuously adjustable. And it can work at full load for a long time. Low ripple and low noise, multiple protections, and long life. Designed for electronic maintenance and scientific research, product development, laboratories, and schools.
What Do You Get?
1 x KAIWEETS PS-3010F DC Power Supply
2 x Test Leads
1 x Output Power Cord
1x Input Power Cord
1 x User Manual
1 x Packing Box