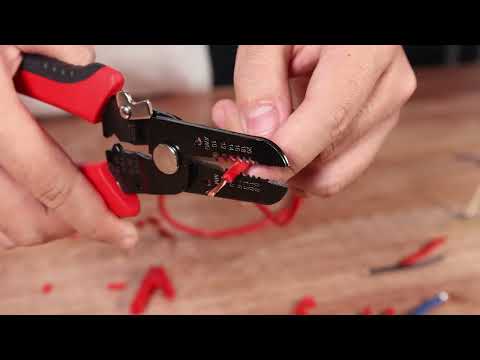 KAIWEETS KWS-101 4 in 1 Wire Stripper Cable Wire Cutter Stripping Tool
Free Delivery

5-10 Business Days to America and Europe.
15-30 Business Days to Other Areas.

Free Return Warranty

30-Day No-Hassle Returns
3-Year Warranty

Shipping from US Facilities
Fraud Prevention: Your Payment is Safe & Secure.
☆ Buy 2 get 1 free!!! Notice: Please add 3pcs to the cart
4 in 1 Multifunction: Wire stripping, cutting, crimping, and clamping are integrated into one tool. Suit for stripping 10-20 AWG wire; Cutting copper, aluminum, and sheathed core wire.
Safety: Self-adjusting mechanism hidden springs reduce hand fatigue and the safety lock prevents damage to stripper edges and ensures personal safety when unused.

Durable Materials: The handle which is ergonomically designed with TPR material provides comfortable gripping. The pliers are made with carbon steel which improves their durability.

Wide Applications: Use it for stripping, cutting copper wire, aluminum wire, sheathed core wire, cable, and insulated terminal electrical crimping.

Warranty: KAIWEETS provides 3 years of free return and exchange policy if there is a product-related problem with the KAIWEETS wire stripper tool.
SPECIFICATION
Item Weight
0.15 KG
Item Dimensions (LxWxH)
7.48 x 2.75 x 0.6 inches
Wire Stripping Range
10-20AWG
Wire Crimping Range
10-22AWG
Performance Description
TPR Handle, Safety Lock, Hidden Spring, Long Lifetime
KAIWEETS KWS-101 4 in 1 Wire Stripper for Stripping, Cutting, Crimping, Clamping wires. Whether you are dealing with electronic devices, home appliances, household lighting building, or just repair of your child's electrical toys, you are going to need this to do it fast and effortlessly.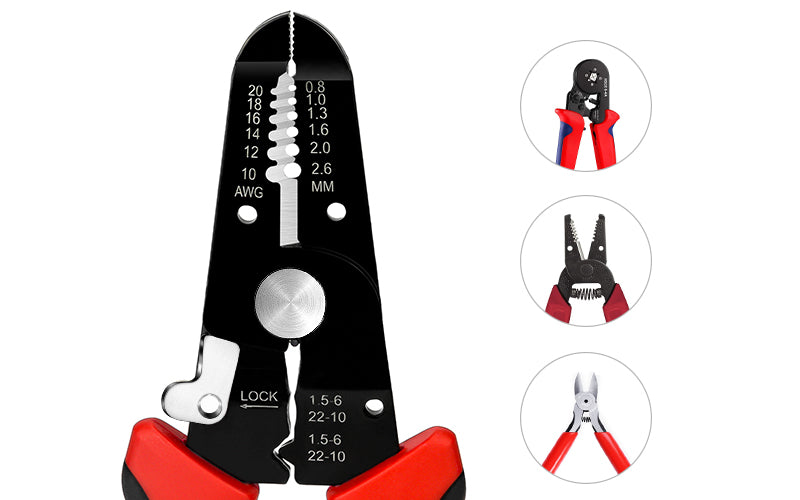 Wire Clamping
Clamping wires through the tip of the tool.
4 in 1 Wire Stripper Features:
1: Stripping solid and stranded wires with AWG signs
2: Cutting copper, aluminum or steel wires through the blades
3: Crimping electrical terminals, connectors and rings
4: Clamping wires through the tip of the tool
Note: Please do not use the product to strip wires over its AWG range and cut hard metal or stainless steel wires.
Wire Stripping
Different wire specifications need to match different round stripping holes, if you use the wrong round stripping holes it can cause core damage or make wire stripping more difficult.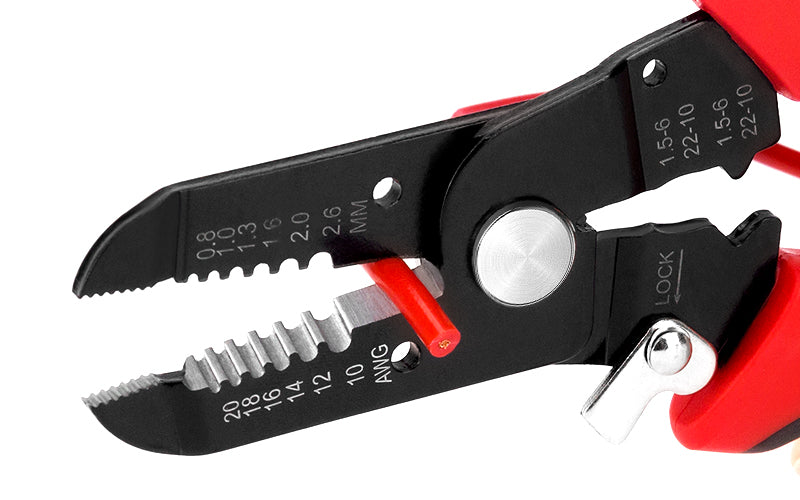 Wire Cutting
Special thickened blades allow for easy and efficient cable cutting. Plastic & cushion grip handle, provides maximum leverage (PP& TPR) and increased comfort and reduced hand fatigue making the grip Self Adjusting.
Wire Crimpping
Specially designed and precisely machined teeth grabs, holds, pulls and removes outer jacket in a simple one-handed motion; Also a wire crimping tool which crimps insulated and non-insulated automotive ignition terminals.