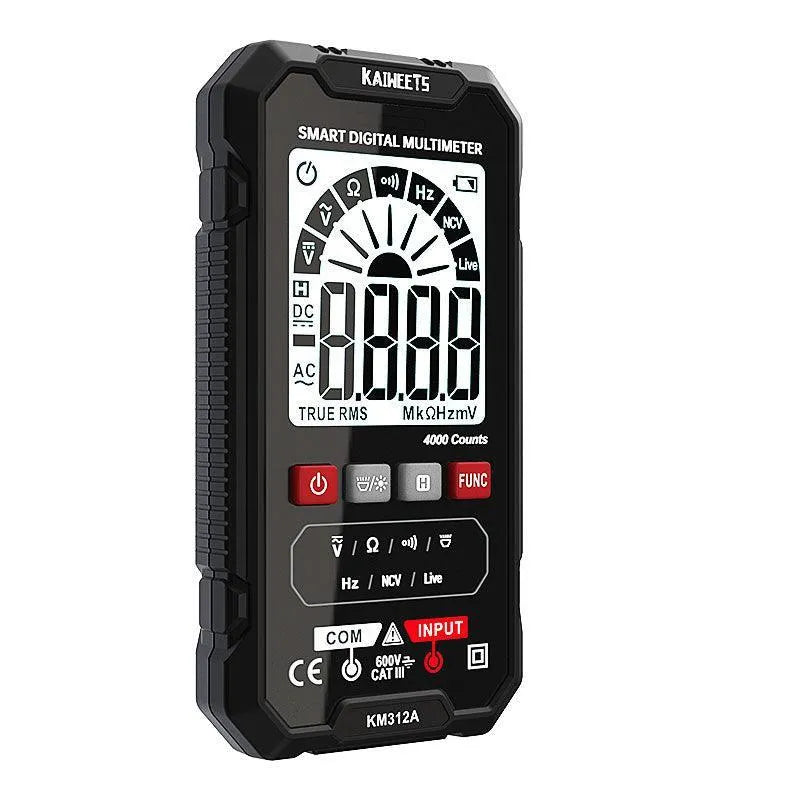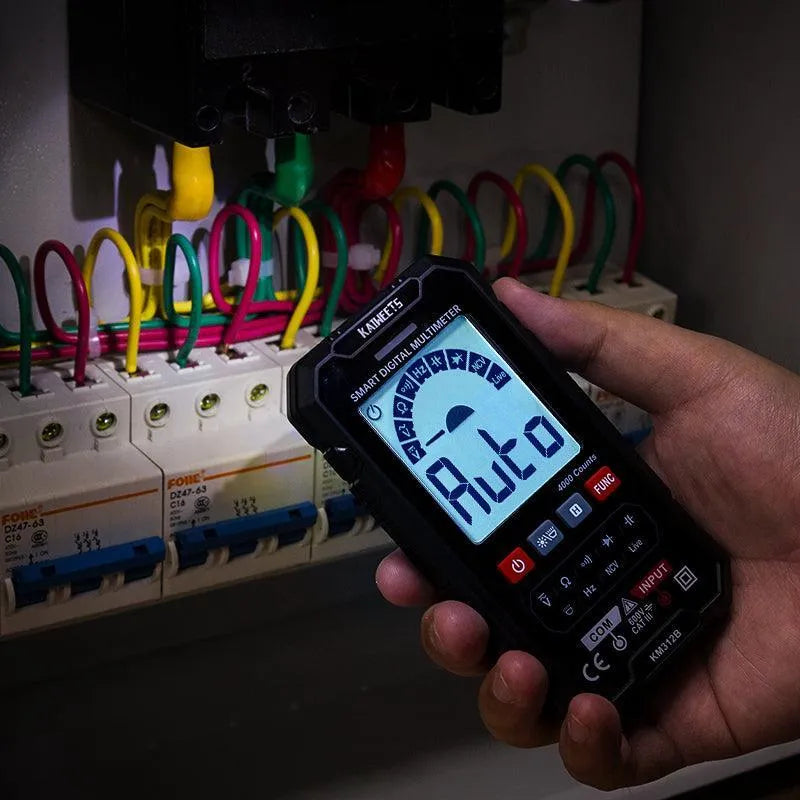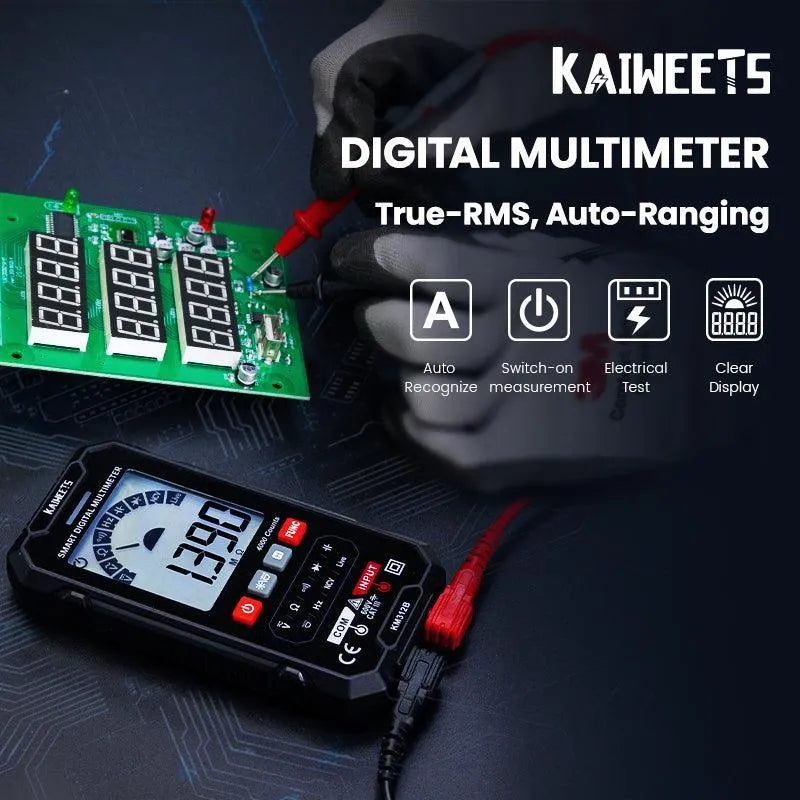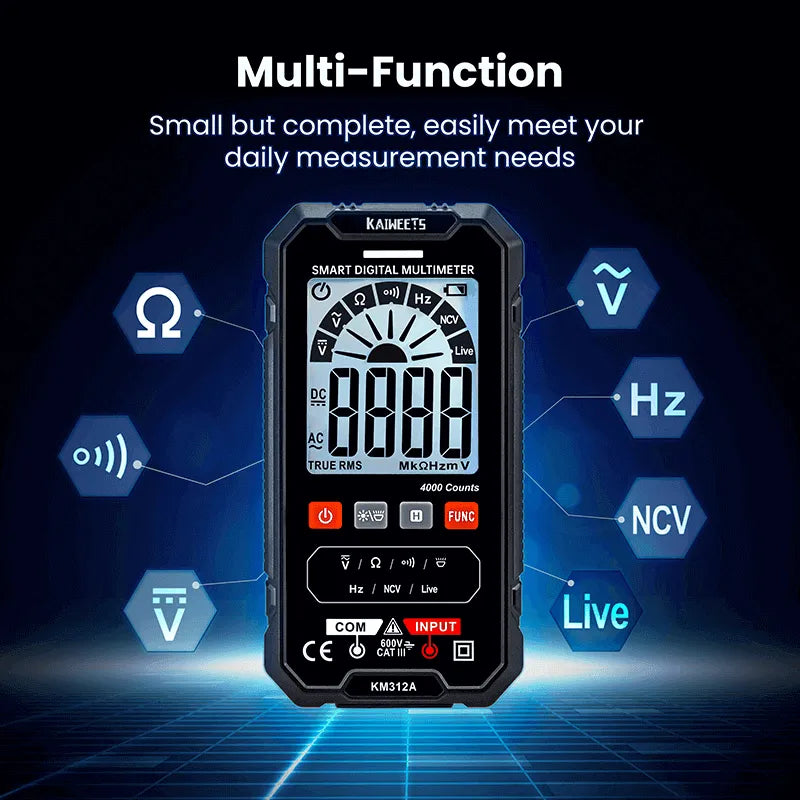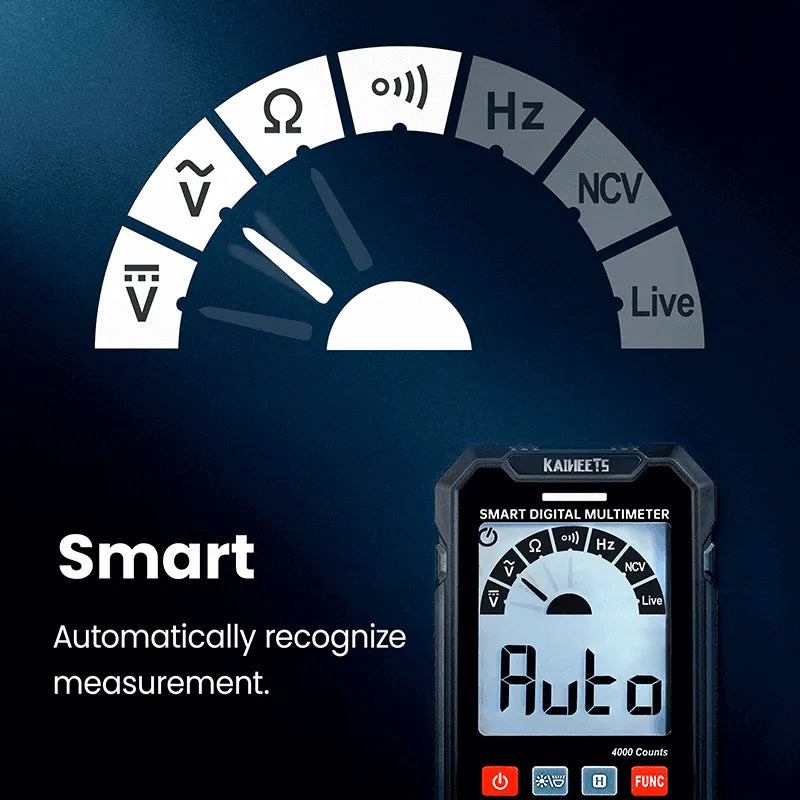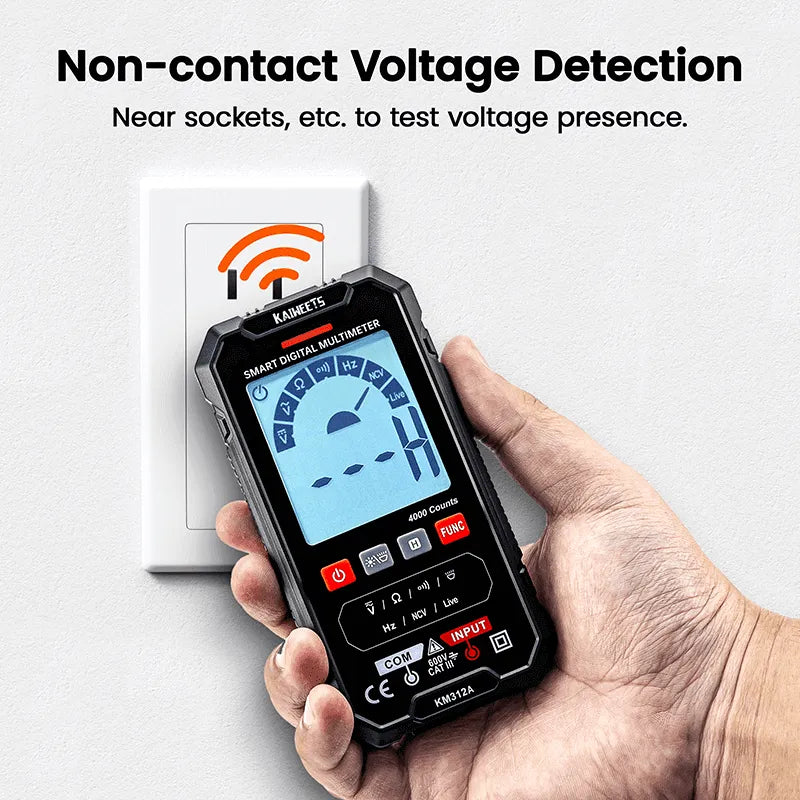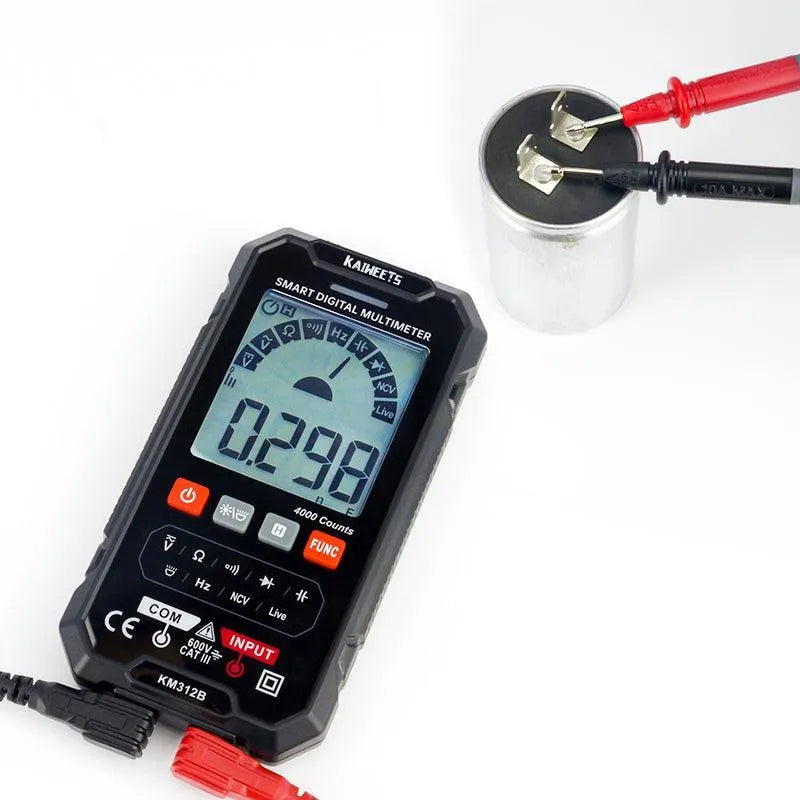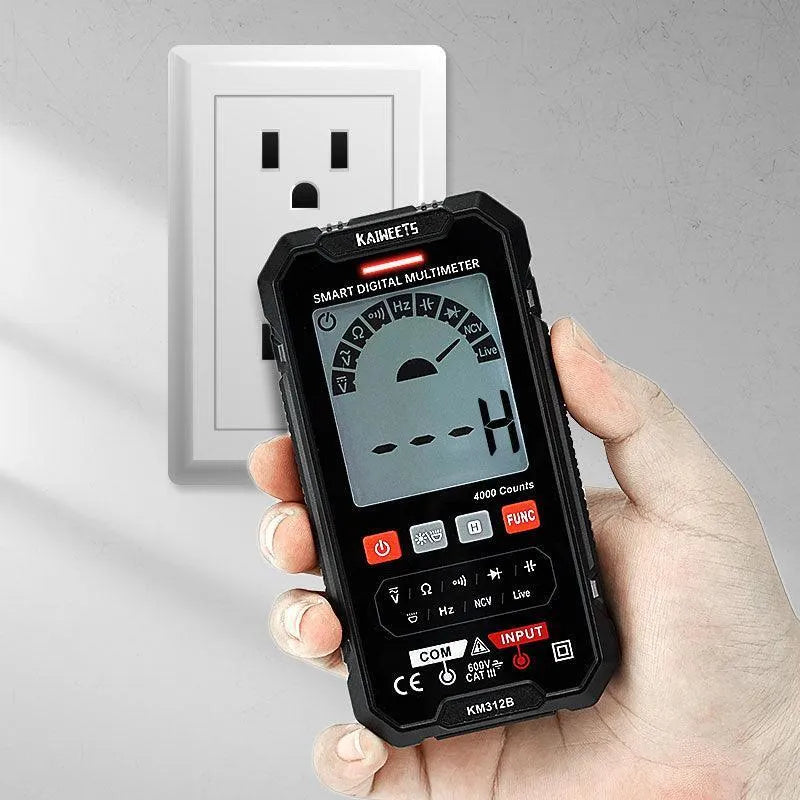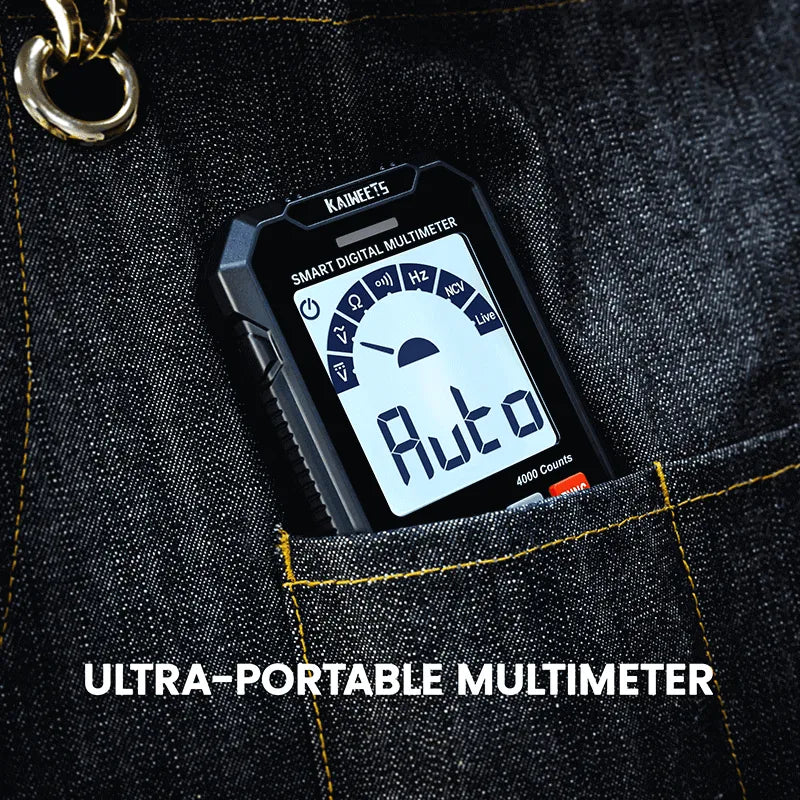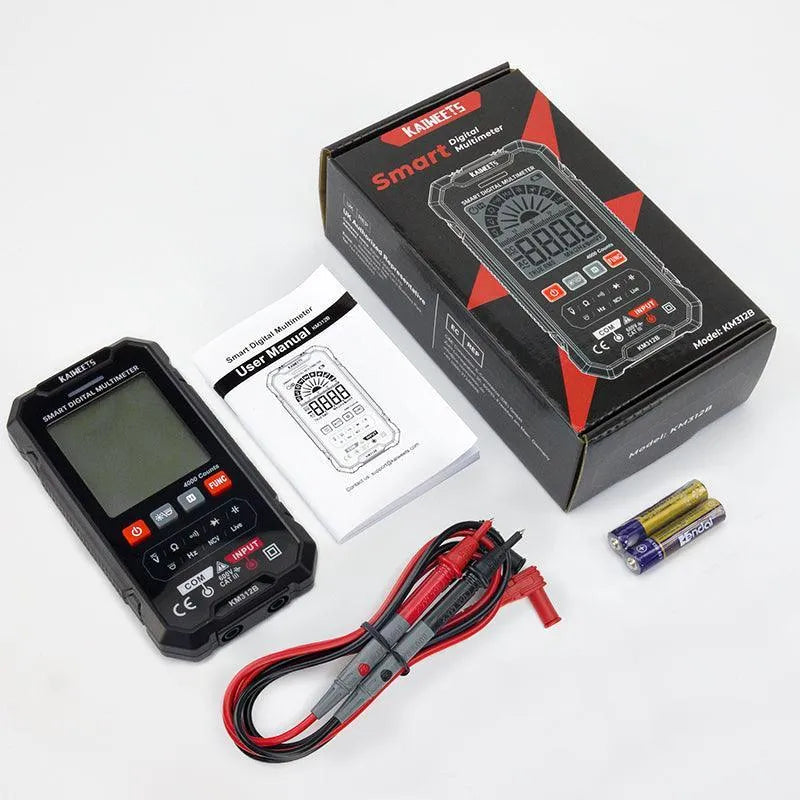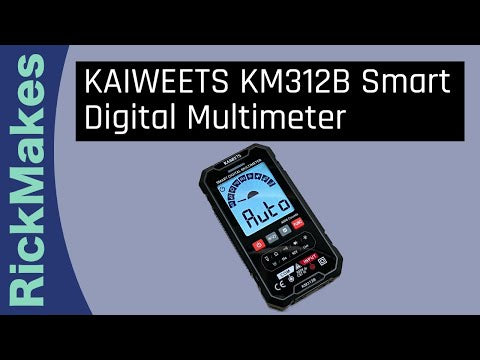 KAIWEETS KM312B Digital Multimeter 4000 Counts True-RMS
Free Delivery

5-10 Business Days to America and Europe.
15-30 Business Days to Other Areas.

Free Return Warranty

30-Day No-Hassle Returns
3-Year Warranty

Shipping from US Facilities
Fraud Prevention: Your Payment is Safe & Secure.
Range: KAIWEETS Digital Multimeter KM312B measures AC/DC voltages up to 600V and resistances up to 60MΩ.

Features: Voltmeter / Ammeter / Non-Contact Voltage Tester / Resistance Tester / Capacitance Meter / Continuity Tester / Battery Test; 6000 times / Frequency Test / TRMS / Data Hold / Auto Power Off.

Safer tester: IEC61010-1 CAT.III 600V overvoltage safety standard and pollution level 2. silicone protective case, anti-voltage circuit design. The probability of burning out the meter is almost 0%.

Easy to operate: Backlit screen. LED backlight for working in low light area.
SPECIFICATION
Item Weight
0.35 KG
Product Dimensions
5.91 x 2.76 x 1.97 inches
Batteries
2 AAA batteries required (included)
Overload Display
Display OL
Safety Level/Certification
IEC-61010-1 CATⅢ 600V, double insulation
Upgraded Specification
▲ AC Voltage: 400mV/4V/40V/400V/600V±(0.8%+3)
▲ DC Voltage: 400mV/4V/40V/400V/600V±(0.5%+3)
▲ AC Current: not support
▲ DC Current: not support
▲ Resistance: 400Ω/4KΩ/40KΩ/400KΩ±(1.0%+5); 4MΩ/40MΩ±(1.0%+5)
▲ Capacitance ( only KM312B ): 4nF/40nF/400nF/4μF/40μF/400μF ±(4.0%+5);4mF/40mF±(4.0%+5)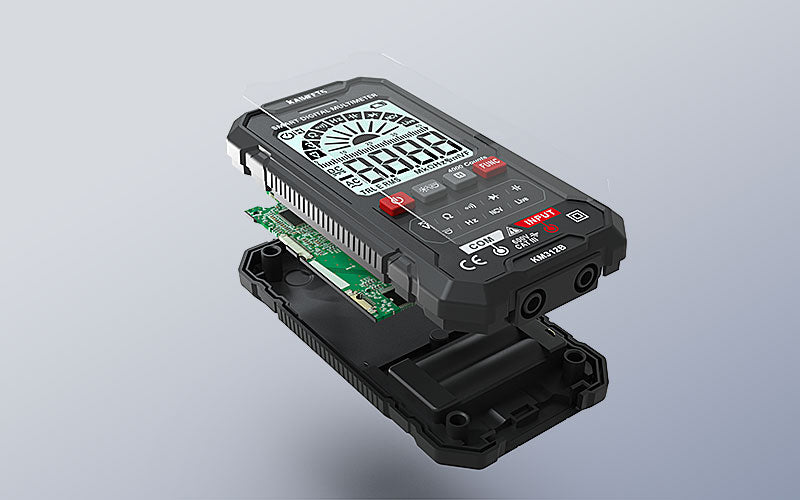 KM312B Digital Multimeter
An ultra-portable multimeter with a nice look and large modern display. Very suitable for carrying with car, camping or DIYer and homeowner.
Multi-Function
Quickly measure Resistance, AC, and DC voltages, great to be used indoors and often check household currents.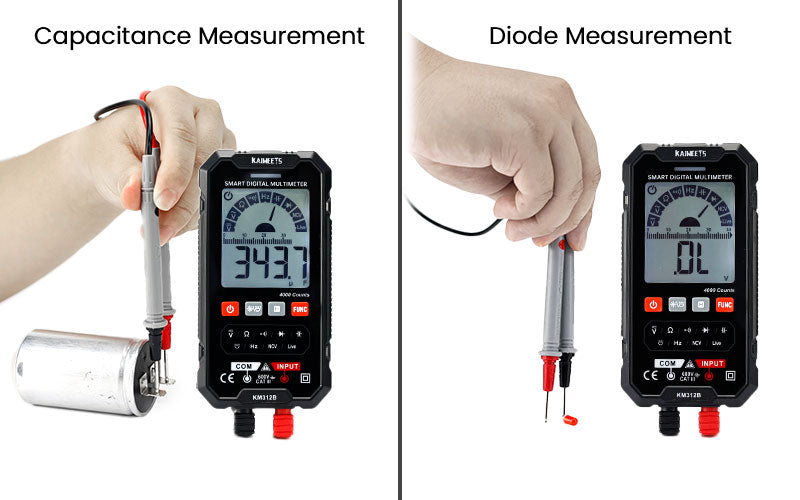 Capacitance Range & Diode Test
Capacitance Range
4nF/40nF/400nF/4μF/40μF/400μF/4mF/40mF
Diode Test
Accurate and fast diode test. Beep on a good diode
Live Wire Detection
Live wire testing with the red test lead. The unique function is to test the presence of live wires. When it detects the live wire, the multimeter will reflect with a red indicator light and audio alarm.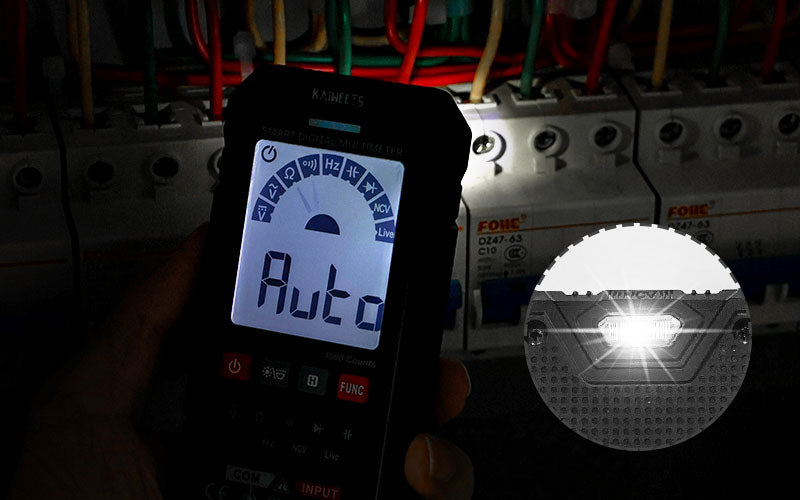 Bright Backlight and Flashlight
The bright backlight enables the readings to be clearly visible on a large LCD screen; even in dimly lit areas and at night, the flashlight is as bright as a little lamp and provides illumination in the dark.
Safety
The multimeter has passed overvoltage category IEC61010-1 CAT.III 600V safety standards.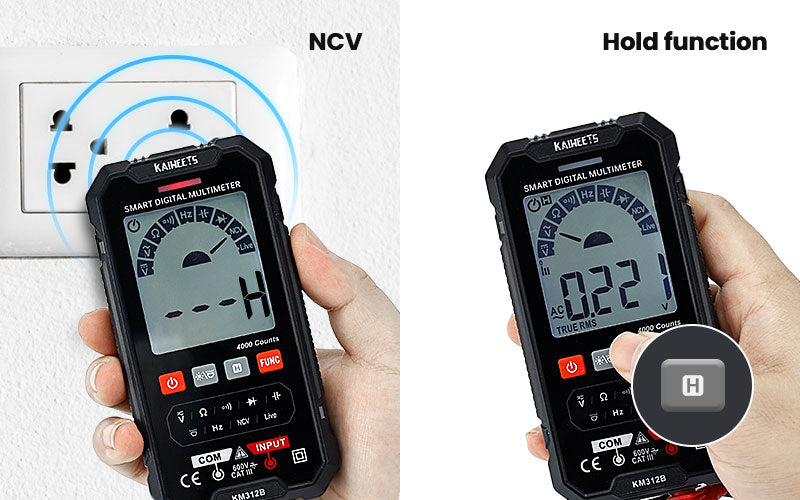 Non-contact Voltage Detection & Data Hold
Non-contact Voltage Detection
Design for more safety. Just place the probe near outlets, sockets, terminals, etc. to test voltage presence.
Data Hold
When taking measurements and recording results, it is often easier to use the data hold function to freeze the data being displayed on the digital display.
What Do You Get?
1 x KAIWEETS KM312 A/B Multimeter
2 x Test Leads
2 x 1.5V AAA Batteries (Assembly Required)
1 x User Manual
1 x Packing Box